Italy ranks as one of Europe's most popular destinations for anyone looking to live in a new country. It boasts so much charm and history as well as one of the world's very best cuisines. In this post, we'll look at the cheapest cities to live in Italy and consider which are the best options for combining a high quality of life with affordable living.
At the bottom of the page, you'll also find a cost of living comparison for cities in Italy. It features all the major destinations. Figures were last updated in May 2023, taking into account recent increases in the cost of living in Italy.
---
5 of the Best & Cheapest Cities to Live in Italy
---
Padova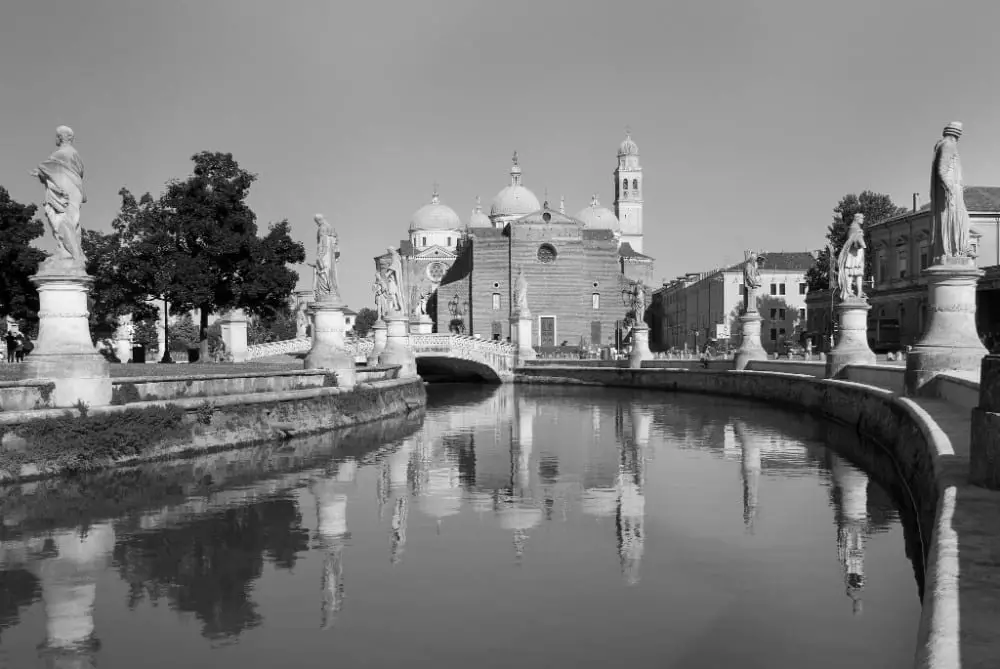 One place that finds a nice balance between affordability and a good standing of living is Padova (AKA Padua). Located around 40 km from Venice and with rail connections taking less than 30 minutes, you can get the Venetian experience without having to deal with the high cost of living in one of the world's most touristy cities.
Padova has plenty to offer in its own right though. It is a historic town of piazzas, bridges and narrow old streets and is a good option for anyone who prefers smaller, less chaotic cities. As of May 2023, it is ranked by NomadList as one of the top ten Italian cities for digital nomads, scoring well for fun, internet access and safety.
Living Cost Index –  1450 Euros/month
---
Turin
If you're looking to live in a big city but can't afford the extra few hundred Euros it would cost to live in Rome or Milan, then Turin (AKA Torino) may be your best bet. It is Italy's 4th largest city with a population just shy of one million but despite that and its location in the wealthy northern region of Italy, Turin is surprisingly affordable to live in.
As well as all the usual facilities and advantages that come with living in a large city, Turin's location at the foot of the Italian Alps, brings with it all kinds of options for getting out and enjoying nature. The city hosted the 2006 Winter Olympics and has many great nearby options for skiing during the winter months or hiking in the summer.
While it may lack the charms of Rome or Florence, Turin is still mostly an attractive city to live in, famous for its Baroque architecture and as the home of Juventus, Italy's most successful football club. For those looking for a long-term stay, Turin's status as a major hub for technology and industry is also significant and suggests that it could go from strength to strength in the coming years.
Living Cost Index –  1400 Euros/month
---
Palermo
As far as the cheapest cities in Italy go, your best bet is to head to Sicily. It is the largest Mediterranean island, located just off Italy's 'boot' and offers a much warmer climate than you will get in the north in a city like Turin.
Catania and Messina are also viable cheap options for living on the island but the largest Sicilian city is Palermo and it actually ranks as the 5th largest in all of Italy. Like many Italian towns, your first impression may not always be positive with busy streets and noisy traffic. It may not be the most beautiful city either, but as the main transport hub on the island, it's the best base for getting around and exploring all that Sicily has to offer whilst still enjoying the benefits of city life.
According to our 2023 Italy cost of living rankings, living costs in Palermo are just 59% of the equivalent figure in Milan and if anything the gap is widening. While depending on your circumstances, you may need to factor in the reduced options for jobs and lower salaries in Italy's poorest region. Anyone able to work remotely will make great savings by choosing Sicily as their base.
Living Cost Index –  1150 Euros/month
---
Bari
Another of the country's better value cities is Bari, located in the southeast of the country on the Adriatic coast, perfect for enjoying summer in Italy. It lies in the popular Apulia region, one of the best places to live in Italy for foreigners, particularly those looking for much cheaper rental prices and living costs than you find in cities such as Rome and Milan.
Efforts have been made in recent years to restore and spruce up its medieval old town with a range of excellent late night options for eating and drinking. Bari has always been a major port city for travellers heading between Italy and the Balkans and with increasing numbers of cruise ships docking in Bari, it has made a considerable effort to increase the safety of a city centre which once felt a bit dodgy.
Overall, a bit like Palermo, it's a good option for anyone looking for a coastal location and warm climate. However prices have risen considerably in the past couple of years so it's not quite the bargain it once was.
Living Cost Index –  1400 Euros/month
---
Verona
Verona is another nice choice in the north of the country. Famed as the home of Romeo & Juliet, it is almost certainly the most aesthetically pleasing of the five featured in our rundown of affordable Italian cities.
Verona is complete with an array of ancient castles, piazzas and medieval churches. It is a wonderful place to visit as well as live but unlike some other popular Italian cities, it retains a more relaxed feel and its prices have not been skyrocketed by a tourist boom.
Its location in a central part of Northern Italy and convenient transport links also make it the ideal base for doing weekend or day-trips to cities such as Venice, Florence and Milan, all of which are less than two hours away by public transport.
Living Cost Index –  1450 Euros/month
---
Italy Living Cost Calculation Explained
The exact cost of living for the five cities featured in this post (and those in the table below) clearly will vary a lot from person to person and figures should be taken only as a means of comparison rather than an exact prediction of what you would spend. We used numbeo's cost calculator (which is based on real data from people living in Italy) as a guide to calculate them.
The monthly figure is designed to cover the cost of rented accommodation and day-to-day living costs (groceries, transport, evening entertainment etc). Students and those happy to share a flat with several people and maybe live a bit away from the centre will spend less than somebody living alone in a good area.
Therefore some people may be able to get by on slightly less than the figures quoted while others will need slightly or a lot more. The figures are not intended to be a budget for a luxury lifestyle. It is a relatively tight budget but one that still allows enough freedoms to fully experience and enjoy the Italian way of life like a local.
It's important to note that the cost of health insurance is not factored into these figures. This is because older people will pay a lot more for example, while EU citizens may already have an EHIC card which entitles you to treatment, meaning you won't have to worry about this extra expense. Global medical insurance doesn't have to be expensive though. You can get a quote in less than a minute from SafetyWing to help calculate how much this may be in your circumstances.
---
Cost of Living in Italy (2023) – Cities Compared
---
City
Cost of Living Index (Monthly in Euros)

Milan

1

950
Rome
1650

Bolzano

1600
Florence
1600
Venice
1550

Bologna

1550

Modena
1450
Parma
1450
Verona
1450
Treviso
1450
Padova
1450

Genoa

1

400
Bari
1400
Turin
1400

Trieste

1

400
Pisa
1350

Rimini

1350
Naples
1250

Catania

1150

Palermo

11

50
This Italy cost of living data was last updated in May 2023.
This table consists of the 12 largest cities (estimated population of 250,000 or more) in addition to 8 others, most of which have been selected because they tend to rank highly in quality of life rankings or are generally quite popular with foreigners moving to Italy to live. The eight smaller cities are Padova, Trieste, Pisa, Bolzano, Treviso, Rimini, Modena and Parma.
As you might expect, there is quite a big divide which loosely runs along north-south lines with the North being the wealthier part of the country whereas the South as well as the islands of Sardinia and Sicily are much poorer and home to many of the cheapest cities to live in Italy. There are exceptions to this rule with the capital Rome a bit more expensive while Turin is relatively affordable for a large northern Italian city.
In comparison to living costs around Europe, Italy is pretty expensive to live in. Even the very best places to live in Spain are cheaper than cities like Bolzano and Florence while Greece and Portugal are even more affordable Southern European options. Prices in Northern Italy are typically more in line with the cost of living in France.
---
This post on the cheapest cities to live in Italy was last updated in May 2023. Comments and questions are welcome. However please note we are not experts on Italian or EU immigration laws nor on local job markets/study options. You may have more luck on expat forums or other groups.
5 Italian Cities that are cheap to live in & offer a high Quality of Life