Taiwan may not be a backpacker hub like some nearby Asian countries but it ticks a lot of the boxes when it comes to being an excellent independent travel destination. Firstly it's affordable, with cheap dorm beds and lots of street food all over the island. It also has an excellent rail network and its small size makes it easy to get around. Throw into the mix plenty of culture, an intriguing and complex history and no shortage of stunning natural sights and it's a wonder why more people don't consider backpacking Taiwan.
---
TIME NEEDED – 2-3 weeks
If you're pushed for time, our Taiwan travel itinerary could be done in 2 weeks as it is a small island and transport is fast. To put things in perspective, it takes just 90 minutes to travel from Taipei in the far north to Kaohsiung City in the far south by high-speed rail!
---
POSSIBLE BUDGET – £560 | €625 | US$700
These figures (June 2019 exchange rates) are based on spending 3 weeks in the country and clearly don't include the cost of getting to/from it. Taiwan is a reasonably cheap country to travel in although slightly more expensive than most countries in nearby Southeast Asia (read our suggested Southeast Asia backpacking budget). Somewhere in the region of $30-40 per day (950-1250 NT$) should be a realistic budget for most backpackers in Taiwan.
---
TRAVEL INSURANCE FOR BACKPACKERS IN TAIWAN
The cost of travel insurance isn't included in the budget figures above. You can get a quote in less than a minute from Heymondo who provide well reviewed travel insurance for backpacking Taiwan and other countries.
---
Backpacking Taiwan – Taipei to Kenting
Our Taiwan travel route covers all the main destinations in the country. The main thing to note is that there is a huge difference between the two sides of the island. The West Coast (facing mainland China) is very industrial and is home to most of the major cities which are linked by an excellent high-speed rail network. The East Coast is much more picturesque with smaller settlements and much more nature. The East is certainly more popular with visitors to the island but it depends what you are after and our itinerary takes in both coasts as well as some of the travel highlights of Central Taiwan.
Taiwan Itinerary Map
---
Taiwan Backpacking Route – First Stop Taipei!
Taipei 101 at night, CC BY 2.0
If you've come from afar, you might need a day to catch your breath and adjust to the time difference so consider spending two to three days in Taipei, the capital of Taiwan. Most flights to the island land at Taiwan Taoyuan International Airport just outside the city.
Taipei is a city of skyscrapers with an urban area that is home to around seven million people. The old city is completely surrounded by New Taipei City such is the growth that has taken place. It can be slightly confusing to newcomers given the whole island is also sometimes referred to as Taipei with national sports teams competing as Chinese Taipei due to the delicate political situation.
In the original city proper, you will have a wealth of shopping and entertainment options while a trip up to the top of Taipei 101, the tallest building in the world until 2010 is also a major attraction for visitors. While it's clearly a business city, there are one or two quirkier districts to explore (it makes our countdown of the 10 best street art cities) while the Longshan Temple is another popular stop. Read about our tips for places to visit in Taipei for more inspiration.
Yangmingshan National Park
Yangmingshan National Park can be easily visited as a day-trip from Taipei (the same applies to most of the island!) but there is plenty to see and do. Therefore you may want to base yourself here for a couple of days or simply keep a base in Taipei and do a couple of separate trips.
Highlights in Yangmingshan National Park include stunning views over the city of Taipei from some of the peaks which include a dormant volcano and many hot springs. If you have time, you can head to the nearby North coast and visit the beach at Shimen and the Yehliu Geopark, which is home to some stunning rock formations.
Keelung City & Jiufen
Next stop on this Taiwan backpacking itinerary but still not far out from the capital is the coastal Keelung City which is built around an important port and harbour with several shipping routes linking the Taiwanese controlled Matsu Islands, just off the Chinese mainland.
Keelung City is also one of Taiwan's culinary highlights with a wide variety of weird and wonderful foods on offer at its popular night market. Also well worth a visit is nearby Jiufen, a former mining town that is now a real hub for visitors to the island with a movie-set feel of narrow alleyways and a rickety old train line that links goes up the slopes to nearby villages.
Hualien & Taroko Gorge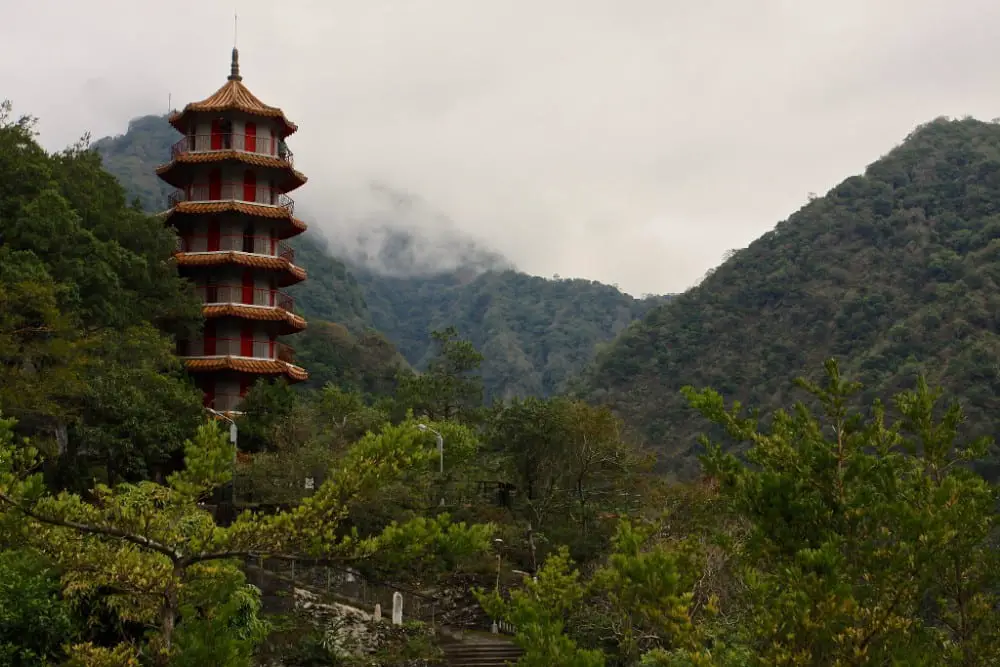 Temple in Taroko Gorge, CC BY-SA 2.0
Next stop Hualien, another of the main towns on the much less populated East Coast. It's a cool place to hang around for a bit with lots of budget accommodation, another lively night market and one of its more interesting features is that it is home to a large aboriginal minority setting it apart from most Taiwanese cities.
From a Taiwan backpacker's perspective, it's other main purpose is that it is a good base for exploring Taroko Gorge, another major highlight of travel on the island. The gorge has some spectacular cliffs and some of the best hiking trails in the country.
Puli (for surrounding mountains & Sun Moon Lake)
Taroko Gorge is certainly one essential stop for anyone backpacking Taiwan and Sun Moon Lake, near the town of Puli is another. It sits in almost the exact geographical centre of Taiwan and has been the centre of aboriginal life on the island for thousands of years giving it a special aura. If you want to stay on the clear blue lake rather than in Puli, it's advisable to come in midweek as accommodation tends to book up quickly with local visitors at the weekend.
Read more – Check out our backpacking route for the Philippines!
Taichung
To experience another of Taiwan's main cities, you can make the trip to the West Coast and nearby Taichung, the country's second largest city after Taipei. It's recognised as the island's culinary capital and with numerous night markets, there are plenty of places to tuck in.
Alishan
If you're more of a nature lover, then you may want to skip Taichung and head straight to Alishan. It is a mountainous area full of trails through misty forests. It's accessible via a scenic century-old gauge train which is an adventure in itself. More ambitious hikers might want to head to Yushan Mountain, the highest peak in East Asia which is roughly 25km away.
Tainan
Back to the coast now and Tainan, the oldest city in Taiwan and the former capital. While it's very much a modern metropolis these days with two million people, high-rise buildings and high-speed rail links, Tainan's main charm comes in its historic buildings which includes numerous temples and the famous Chihkan Towers.
Kenting National Park – Taiwan's Main Backpacker Destination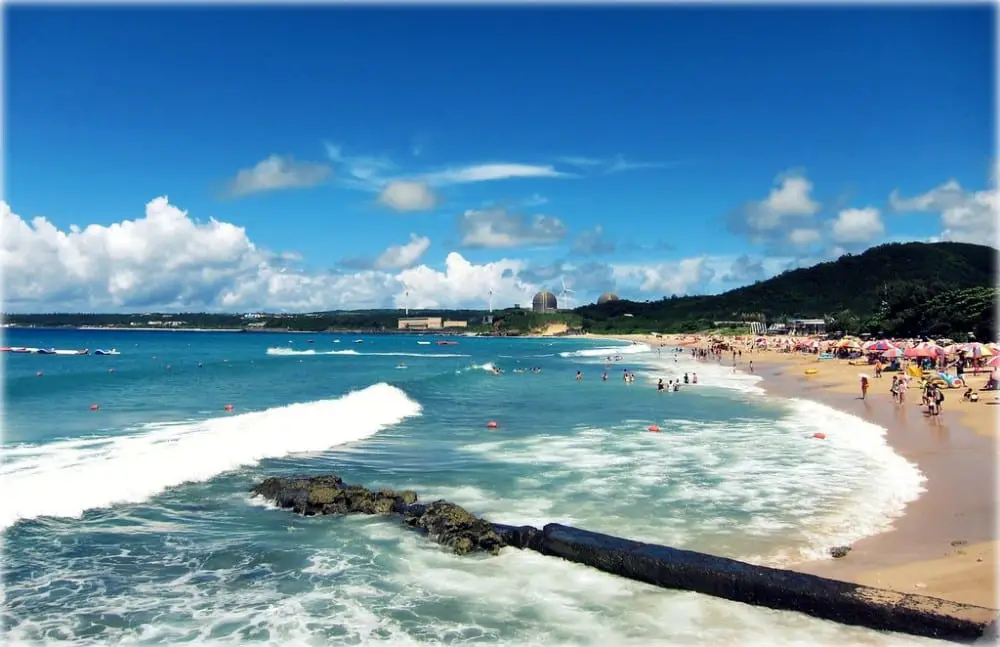 Our Taiwan backpacking route ends on the Southern tip of the island. Kenting is Taiwan's main backpacker hub with budget accommodation, bays, beaches and more in the way of international food. It's a decent base for exploring the wider area which includes the pleasant White Sand Bay, featured in the movie The Life of Pi. Longpan Park is another major highlight in the area with its picturesque coastline and cliff while the sand dunes at Fongchueisha are also worth a trip.
While you have now travelled the length of the island, it's worth noting that it's still possible to travel back to Taipei in about five or six hours by public transport for any flight out of the country. If you only booked a single in, then you might find some international connections from Kaohsiung airport. This is much closer and has flights to a host of other cities in Southeast Asia and the Far East if you are continuing your travels elsewhere. There is a Kenting Express bus line linking it with Kaohsiung Airport in about two hours twenty minutes.
Read More: The best cities to live in Japan.
---
Check out our other Asia backpacking routes!
---
Taiwan Backpacking Tips
Getting to Taiwan
Getting into Taiwan, normally involves flying to Taipei's Taoyuan International Airport. It is a large international airport with direct connections to destinations as far away as San Francisco, Vancouver, Paris and Auckland. China Airlines offer lots of long-distances flights in, including services from London, Frankfurt, Rome, Los Angeles and New York. The airport is also linked to just about every major city in Asia including many Chinese cities.
If you are already in Southeast Asia or the Far East, you may also want to consider flying into Kaohsiung International Airport (flights from Hanoi, Ho Chi Minh City, Singapore, Bangkok, Tokyo, Seoul, Kuala Lumpur and many Chinese cities). In this case, consider doing the above Taiwan backpacking route in reverse by starting in Kenting and ending in Taipei.
If you're also visiting the mainland, check out our China travel tips for more info on budget travel in China and the region as a whole.
Visa Requirements for Taiwan
Taiwan's official name is the Republic of China (ROC) and despite the somewhat complex relationship, it is totally independent of the People's Republic of China, at least when it comes to its entry requirements.
The good news is, that It has a much more relaxed visa policy than that of its giant neighbour. EU nationals plus a host of other nationalities (including the US, Canada, Australia, New Zealand, Switzerland, Norway, Japan, South Korea) can get 90 days in Taiwan without any need for a visa. Clearly given that it is a small island, that should be more than sufficient for any trip for purely travel purposes.
You can read more about the visa policy of Taiwan here.
 Budget Accommodation
There is some backpacker accommodation in Taiwan, particularly around Kenting while there are plenty of hostels with dorms or capsule-style accommodation in the major cities. Hostel dorm beds in Taipei start at around US$7-8 as a point of reference. A private room for two might set you back US$30+ although you could probably find something cheaper on Airbnb (read our Airbnb review here).
Is Taiwan Safe to Travel Alone?
The short answer is yes by just about any standards. Taiwan has one of the lowest crime rates in the world. Violent incidents are extremely rare and this is to all intents and purposes a first world democracy that is completely separate from mainland China in almost every aspect of daily life. As with anywhere, common sense and not taking any undue risks will help ensure you have a safe trip. There is a good post here on the safety aspect in Taiwan from a solo traveller's perspective.
Getting Around Taiwan
As mentioned previously, getting around Taiwan is quite simple, mostly because it is so small. On the West Coast, you can just hop on a train to get anywhere you need. This page will give you an idea of prices on the Taiwanese high-speed rail network – even the longest journey from Taipei to Kaohsiung is only around 1500 New Taiwan Dollars (less than $50) and at 300km/hr it doesn't take long.
Much of our itinerary for backpacking Taiwan is on the other side of the island though. All of the destinations are linked together by affordable bus routes while there are slower trains running some of the routes too but they aren't as regular as those on the other coast.
Taiwan is an organised, developed country though so you can expect things to generally run on time or at least without the massive delays and problems you can encounter in other parts of Asia. None of the trips between destinations on this Taiwan route should take more than two or three hours, perhaps with the exception of the Tainan-Kenting leg.
---
This article was published in June 2019
---