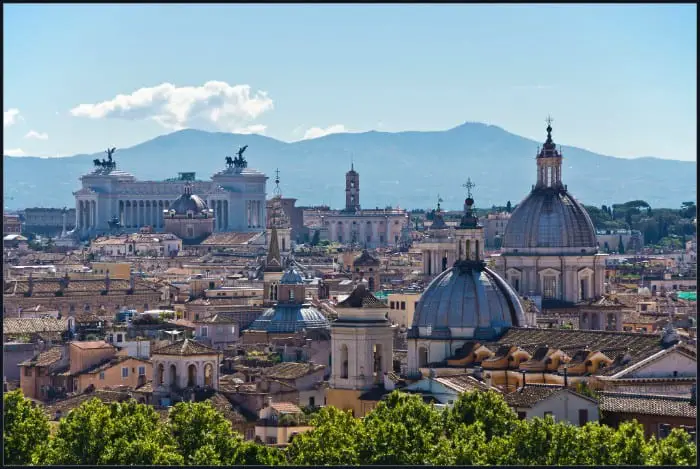 Italy Cost of Travel – Suggested Daily Budget
On this page, we will estimate the cost of travel in Italy. Read on for suggested shoestring and more comfortable backpacking budgets for the popular Southern European country. There are also sample prices and budget travel tips.
---
(Map of Italy from wikitravel, can be re-used under CC BY-SA 3.0)
---
How cheap can you travel in Italy?
Italy Travel Costs on a Shoestring Budget
US$65/day | 55 Euros 
Even though Italy has experienced some pretty serious economic problems over the past 10 years like Mediterranean neighbours Spain and Greece, it hasn't really got any cheaper as a result and is still overall an expensive place to visit. It has more in common with France than those two countries in that regard.
Like France it is full of tourist traps and many of its finest cities are very hard to visit on anything like a shoestring budget. In somewhere like Venice for example it is almost impossible to get by on just 55 Euros a day with budget accommodation alone taking up over 50% of that while eating out is also expensive in the northern tourist cities like Venice, Florence and Pisa.
However if you try and get out and spend more time in the real Italy and perhaps just visit those places as part of a day trip or perhaps a one night stay then our Italy backpacking budget of 55 Euros/day becomes much more realistic. There is a fair degree of regional variation in prices too and generally the further south you go, the cheaper things get. Even the capital Rome is perhaps a fraction cheaper than the likes of Milan in the north. Certainly if you head into the more rural south you should be able to see your money lasting longer while the best value is to be found on the island of Scily.
Daily Travel costs in European countries
More Comfortable Italy Backpacking Budget
US$85/day | 75 Euros
As is the case in many countries, the expensive places are generally the ones that are most worth visiting. The problem with Italy is that there are so many of them and a city like Venice really doesn't need budget travellers to make a huge amount from tourism and as such does little to cater for them. By pushing your budget up to 75 Euros a day, you can afford to spend more time in the pricier destinations but you will still have to be a bit smart with where you eat and drink in order to stick to that.
A slightly larger budget, could also be used to splash out on a better standard of accommodation. Italy is full of great options if you're looking for a warm welcome with plenty of family-run guesthouses in the cities. For something a bit different in more rural areas, try staying in monastery accommodation to properly unwind and enjoy the peace and tranquillity.
---
Affordable Travel Insurance for Backpacking Italy
These budgets don't cover any pre-trip expenses such as the cost of travel insurance and flights to/from Italy. Therefore remember to factor all that in when calculating the likely cost of your trip. For a quick quote on medical travel insurance for backpacking Italy, check out SafetyWing.
---
Is Italy expensive to visit?
Train from Pisa to Rome (4 hours) – from €24
Meal at an inexpensive restaurant – €12-15
Large local beer in a bar or restaurant – €4
Dorm Bed in Rome or Florence – from €15
Private Double or Twin room in Venice – from €60
Entrance to Rome Colosseum – €15.50 ($10.50 for 18-24 year olds from EU countries)
Compare Italy prices with the cost of travel in Germany and the cost of travel in Portugal.
Note these prices were last checked in 2017. The rest of this page was updated in February 2019.
---
Money
Currency – Euros
£1 = €1.13
US$1 = €0.87
(All exchange rates are correct as of February 2019)
---
MFT Recommends
It's no secret that the majority of the fairly limited budget accommodation that exists in Rome is not of a great standard. The centrally located Hard Rock Rooms is a rare exception.
---
street art in Roma, Italy (via Claudio Vaccaro, CC BY-NC-ND 2.0)
---
This page was last updated in February 2019.
---