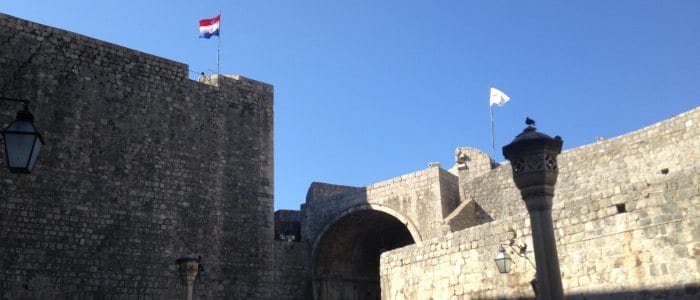 Croatia Cost of Travel – Suggested Daily Budget
This post looks at the estimated cost of travel in Croatia. Read on for suggested shoestring and more comfortable backpacking budgets for this popular coastal country in the Balkans. We also have some sample prices.
---
(Map of Croatia from wikitravel, can be re-used under CC BY-SA 3.0)
---
Is Croatia expensive to visit?
Daily Travel Costs in Croatia on a Shoestring Budget
US$50/day | 40 Euros/day | 310 Croatian Kuna
Many people come to Croatia with the idea that its Eastern European location means cheap prices and easy budget travelling. That may have been the case 20 years ago, but Croatia today is as expensive as it gets in the Balkans. If you're arriving here from Hungary, Romania or Bulgaria, or indeed any of the other former Yugoslav states (with the possible exception of Slovenia), you'll most likely be in for a nasty shock when it comes to paying for everything from accommodation to food, drink and transport.
That being said, Croatia is still slightly more affordable than many other Mediterranean destinations. There are also some really large regional variations and if you move inland away from the stunning Adriatic coastline, it certainly becomes a lot easier to keep travel costs down.
Although small in terms of the area it covers, Croatia's unusual shape and long coastline, means it is some 600 km from the capital Zagreb to Dubrovnik, the country's most popular destination. With several great stops in between the two, you shouldn't end up spending much more than the equivalent of 10-15 Euros on any bus journey.
Food and drink is quite affordable but if you're a budget traveller, you really do need to be careful in terms of avoiding the obvious tourist bars and restaurants. An evening meal and a few drinks in Dubrovnik or on the islands can quickly amount to over half of our suggested daily shoestring budget of around 40 Euros per day.
More Comfortable Croatia Backpacking Budget
US$65/day | 55 Euros | 400 Croatian Kuna
Increasing your budget will give you a bit more freedom to get out and explore the fabulous Croatian islands such as Hvar and Brač. A budget of approximately 55 Euros per day may also be more appropriate than the previous one if you are coming during the peak summer season from late July through August when accommodation prices do rise.
This kind of budget will also be a bit more doable if you're planning to do a lot of partying while in Croatia. While beer is cheap in many towns and cities, you can end up paying two or three times as much for alcohol in a lot of the more touristy destinations. A night out in Croatia is significantly more expensive than in neighbouring countries such as Serbia, Bosnia and Montenegro.
Accommodation Costs in Dubrovnik:
Read More: For a 10-14 day Croatia travel itinerary, check out our Balkans Backpacking Route.
---
Travel Insurance for Backpacking Croatia
You will also need to factor in the cost of getting travel insurance before a backpacking trip in Croatia. SafetyWing is one well reviewed company which offers affordable travel medical insurance for travellers in Europe and beyond.
---
Sample Prices in Croatia
Bus from Dubrovnik to Split (230 km) – 13-15 Euros
Ferry from Split to Hvar – 6-9 Euros
Dorm bed in budget hostel – 10-15 Euros
Cheap private room in a hostel or Airbnb – 20-30 Euros
Meal in a budget restaurant in Dubrovnik – 12-15 Euros
Meal in a budget restaurant in Zagreb – 7-8 Euros
Large local beer in a bar/restaurant – 1.50-5 Euros
These prices are up to date as of December 2020.
---
Money
Currency – Croatian Kuna
£1 = 8.37 Kuna
€1 = 7.55 Kuna
US$1 = 6.19 Kuna
(exchange rates are correct as of December 2020)
---
MFT Recommends
Register with Worldpackers to get access to a pool of volunteering opportunities and swap your skills in exchange for accommodation.
---
street art in Zagreb (via Kevin Dooley, CC BY 2.0)
---
This post on the cost of travel in Croatia was published in December 2020
---