Covering a huge chunk of Southern Spain, in this post we're going to run through five of the best places to visit in Andalusia. While the Costa del Sol near Malaga draws in millions of holidaymakers in Europe each summer, few manage to get out and truly explore one of Spain's most beautiful regions, one full of hidden gems. 
While Malaga itself is not without its charms and is well worth exploring for a day or so, most travellers use the city as a transport hub given it is home to the largest airport in the region. From there, you are within three hours travel of almost every significant destination in Andalusia and these are 5 of the best places to get out and visit:
---
5 of the Best Places to Visit in Andalusia
---
1. Ronda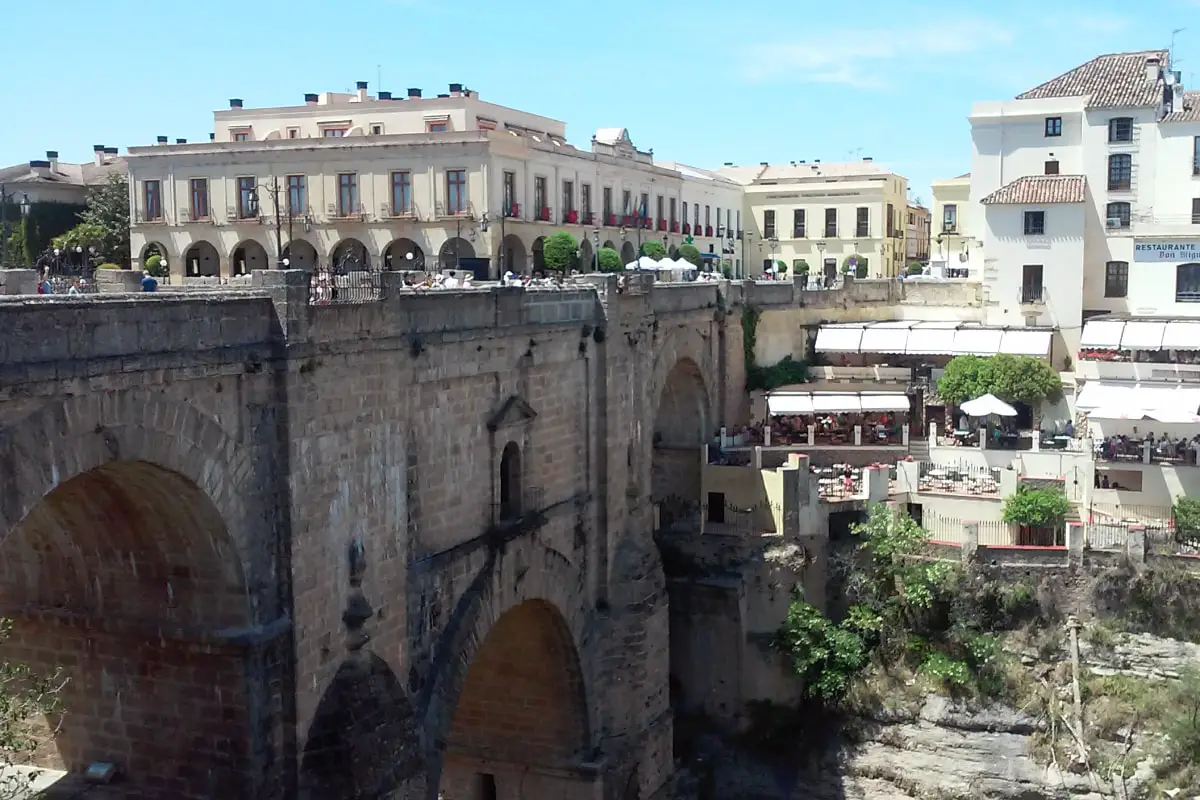 For less than 10 Euros and typically in under 2 hours by bus from Malaga, you can arrive in the stunningly set town of Ronda. It is surrounded by a deep gorge and boasts an impossibly tall bridge which offers up beautiful views of the surrounding countryside.
Ronda once attracted famous writers and poets who gazed out and drew inspiration from the rolling hills while enjoying the cool air which is certainly absent on the coast. Nowadays you can pay a visit to some hugely impressive caves and take a trip to the oldest bullring in Spain. It's the perfect day-trip destination, although many opt to spend a night and enjoy the sunsets over the Andalusian countryside with a glass of wine or a few cañas.
---
2. Sevilla
Andalusia's largest city and capital is one of the grandest in Spain with elegant plazas and a bustling old town. It is the heart of the Spanish Flamenco scene and hosts a week-long celebration each April when the whole city comes out to party for the Feria de Sevilla, a couple of weeks after the more somber Easter processions.
There is plenty to see and do in town including the enormous Gothic cathedral and the Real Alcazar, a beautiful Moorish palace. It also features on our backpacking route for Spain and is simply a must-visit for anyone on a longer trip around this part of Iberia.
---
3. Cadiz
While Northern Europeans usually head to one of the plentiful resorts along the Costa del Sol, Spaniards are more likely to head to Cadiz, which is home to what many locals claim are the country's best beaches. It's also a great place to hang around if you want a bit more than your average resort. That's because this is one of the oldest cities in all of Europe with many secrets to be unravelled in its ancient centre which overlooks the beaches which run the length of the city and beyond.
Cadiz also hosts a wild and witty Carnival in February/March – one of the biggest events on the Spanish cultural calendar. That's possibly the best time to come outside of the warmer period from late Spring to early Autumn when you can properly enjoy the beaches.
---
4. Sierra Nevada
It's a little known fact that Southern Spain is home to the highest mountains on the Iberian Peninsular with excellent skiing and hiking opportunities little more than an hour from the Costa del Sol. A visit to the Sierra Nevada is easily combined with a trip to Granada, as the city lies on its foothills. Some of the peaks, which are upwards of 3,000 km tall, are easily visible from the city on a clear day.
As well as the snow sports and ski resorts, the Sierra Nevada is where you will find some of the best villages to visit in Andalusia. Capileira, Bubión and Pampaneira are among the most charming.
---
5. Granada
The magnificent Alhambra palace is the highlight of any trip to Granada but its winding streets and very obvious Arabic influences give it a vibe unique to almost everywhere else in Spain. Like Cadiz, it has been inhabited by people for over 2,000 years and it is home to plenty of fascinating little districts such as the gypsy dwellings of Sacromonte.
Its altitude gives it a cooler feel than the other big cities in Andalusia and it's easily reached from Sevilla or Malaga by bus or by using Spain's fast and efficient train network. Do wrap up warm if you come during the winter months but with plenty to explore and steep hills to climb in and around the city centre, you should find a way to beat the cold.
---
When planning a trip in Andalusia, it's important to have a proper grasp of its size as it's a deceptively large place. Covering just less than 90,000 km squared, Andalusia is the second largest region in Spain and is roughly the same size as neighbouring Portugal. It's around twice the size of some European countries such as Denmark, Switzerland and the Netherlands. 
Getting in is best done via Malaga if you are flying in from outside Spain, although the Portuguese city of Faro, in the Algarve region is also an option. Andalusia is also quite easy to get to from Madrid. The Spanish capital has high-speed rail connections with Seville and Malaga, both going via Cordoba which is another of the most interesting cities and best areas in Andalusia to visit.
---
This article was last updated in January 2021.
---
Where to go in Andalusia – 5 of the Best Areas to Explore