In this post we'll look at some of the best and cheapest cities to live in Canada. The five featured below may not rank as the outright top places to live in the country but all have something to offer in terms of quality of living and rank as much more affordable than the likes of Toronto and Vancouver.
We also have a cost of living table for the 15 largest cities in the country which may be a useful starting guide for anyone considering moving to Canada. All data was updated in May 2023 to take into account recent rises in the cost of living in the country.
---
5 of the best cities to live in Canada that are more affordable
---
Montreal, Quebec
One of Canada's largest, best known and most visited destinations, you may be surprised to learn that Montreal is also the cheapest of the really big cities in the country. Indeed, Montreal is around 20% cheaper than Toronto to live in.
Located in the east of the country, the city is the cultural hub of life in French Canada. It's perhaps most famous for its culinary appeal with more restaurants per capita than any other place in North America. Whether you're into fine dining or filling street food, Montreal has got all bases covered and it's also certainly the best of the five cities featured here when it comes to a night out with a wide range of bars, clubs and music venues.
While frequently compared to Paris for obvious reasons, Montreal has a considerably more industrial, even grimy feel to it which makes comparisons with large cities in the US such as New York or even northern parts of the UK perhaps more fitting. It also benefits from one of the busiest airports in Canada, an advantage on some of the other cities featured in this post which may be a very long way from anything like a major international airport.
Living Cost Index – 2,500 Canadian Dollars per Month (approx US$1850)
---
Edmonton, Alberta
Next up is Edmonton, frequently ranked as one of the best places to live in Canada. It offers better rental rates than most other cities in North America (although they are increasing) and also has quite a youthful population which makes it a good base for anyone on the younger end of the age scale.
While it may not have quite the fun factor of Toronto or Montreal, Edmonton is still a sizable city with more than a million residents. It's the capital of the western province of Alberta so it's not like you will be short on options when it comes to entertainment. The Edmonton International Fringe Festival is the highlight of the city's cultural calendar, similar to the Edinburgh equivalent and the largest event of its kind in the Americas.
It is important to consider the city's climate before you make any radical decision to move to Edmonton. It is the northernmost city of any real size in North America and it is bitterly cold during the winter with temperatures rarely rising above freezing between early December and late February, even during the day. Summers are mostly warm and sunny, with average temperatures between 20 and 25°C and days that are long with sunsets at 10:00 p.m. or later in June.
Living Cost Index – 2,500 Canadian Dollars per Month (approx US$1850)
---
Hamilton, Ontario
If you're put off by the high cost of living in Toronto but want easy access to it, Hamilton is a good compromise. The two cities are only 70 km away by road with plenty of public transport links so it's possible to live and rent in Hamilton but still enjoy everything that Toronto has to offer.
While the gap is narrowing, rental prices are approximately 25% lower in Hamilton, which in any case may suit those looking to live in a slightly smaller city. While it may not be a glamorous place, with an industrial reputation, Hamilton is gentrifying quickly and now caters to a large number of commuters who work in Toronto, as well as students at McMaster University, one of the best in Canada.
Like its larger neighbour, Hamilton boasts a lakeside location and is also located within easy access for visiting Niagara Falls on the US border – which will make for a memorable early day-trip should you make the move here.
Living Cost Index – 2,650 Canadian Dollars per Month (approx US$1950)
---
St John's, Newfoundland and Labrador
If you're keen on living in a slightly smaller city and are more interested in Canada's wonderful nature rather than its urban life, St John's, in the province of Newfoundland and Labrador may be the perfect place.
Located on the very easternmost point of North America (apart from Greenland), you are a world away from the continent's major urban centres. Living on Canada's largest island serves up all kinds of opportunities to get out into the great outdoors with endless options in terms of hiking trails.
With averages of around 300 cm of yearly snowfall, you probably need to enjoy the white stuff to consider making it your home but summers are pretty mild with average highs of 20°C during July and August ensuring you get to enjoy the changing of the seasons and witness one of Canada's most picturesque cities in various different shades.
It should be noted though that the city's economy is largely dependent on the often unpredictable oil and gas industry and finding work in other sectors may be difficult.
Living Cost Index – 2,550 Canadian Dollars per Month (approx US$1875)
---
Quebec City, Quebec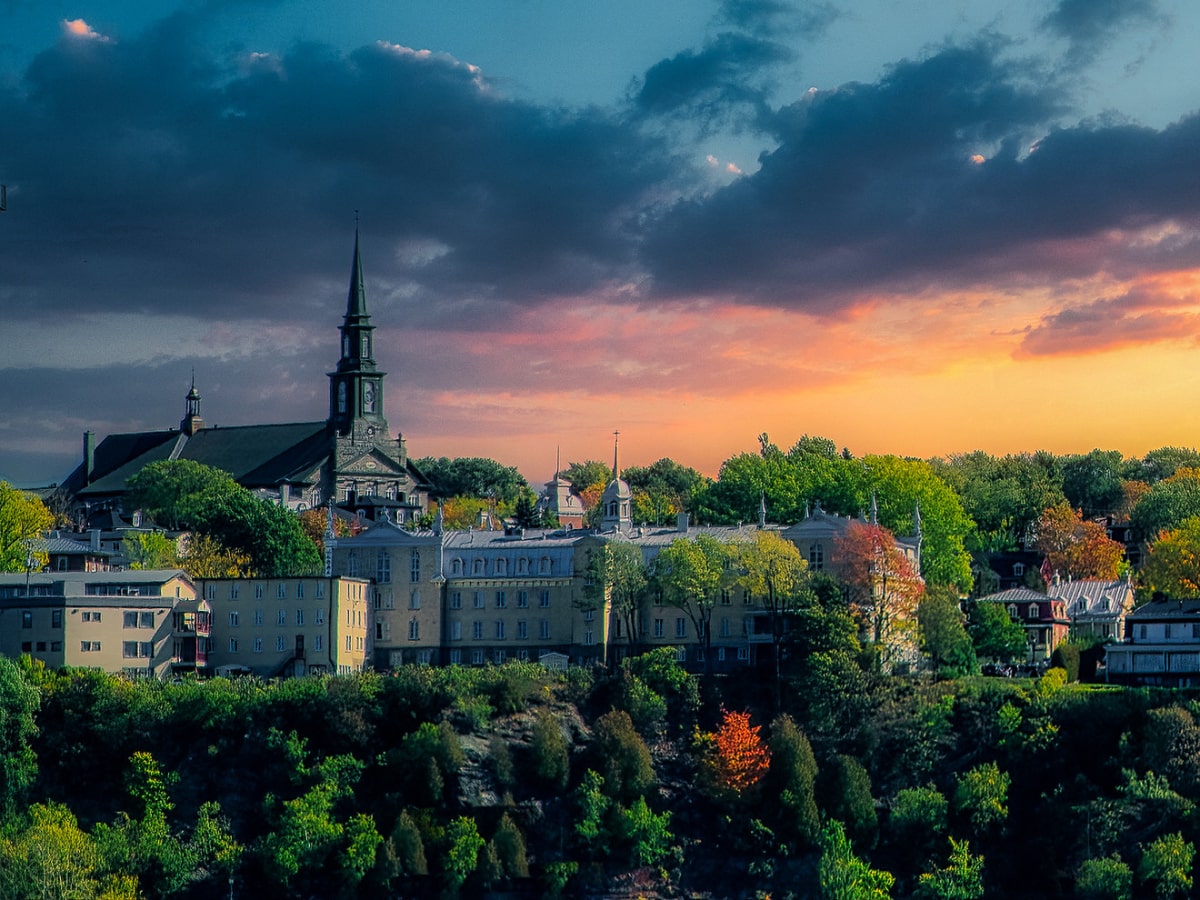 Finally, we head back to French Canada and Quebec City, the capital of the province of the same name. One of the cheapest places to live in Canada, Quebec City ranks as the second most affordable of the 15 largest cities in the country after Windsor, according to our research (detailed below).
If you're from south of the border, looking to move to Canada, it's worth noting that living costs are less in Quebec City than in even the very cheapest cities in the USA (excluding very small towns in some states) such as San Antonio and Memphis.
It also just happens to be a very pretty place to live with a large number of cultural charms. As one of the very oldest European settlements in North America, it's a city with a long story to tell and boasts that genuinely historical feel that many of its Canadian and US counterparts lack.
Quebec City's social calendar is full of festivals, especially during the summer and winter months. The main disadvantage of living in the city though, at least for English speakers, is that it is a very Francophone place. This can make life in the suburbs and away from the central and tourist districts a bit more complicated, but it shouldn't put you off considering living in Quebec.
Living Cost Index – 2,400 Canadian Dollars per Month (approx US$1750)
---
Canada Cost of Living Calculation Explained
For the five cities featured above and those in the table below, numbeo's cost of living data has been used as a guide to work out the estimated cost of living index for the 15 largest Canadian cities (as of May 2023). While it is based on real data supplied by actual residents in each location, everybody is different and your actual cost of living will vary considerably depending on your lifestyle.
It is primarily designed to be a means of comparison and to showcase the range that exists with cities such as Toronto and Vancouver considerably more expensive to live in than the likes of Windsor and Quebec City. The estimates are loosely based on what a single person might spend in a typical month. The idea is to cover all living costs as well as the cost of renting a room in shared accommodation or a small private flat where it's viable to do so.
However, finding high quality accommodation in a good area and having a very active social life will see you spend far more than the figures quoted, particularly when faced with high inflation and rising prices. Students or anyone looking to live a frugal lifestyle may be able to get by on marginally less in some cases, but again it really does depend on the individual.
Also consider that travel and health insurance costs aren't included in these figures and will vary a lot depending on your age. Get a quote in less than a minute from SafetyWing for an idea of how much this may be in your circumstances. There is more info about them in our SafetyWing insurance review which explains what is and isn't covered.
---
Cost of Living (2023) – What are the cheapest cities to live in Canada?
| | |
| --- | --- |
| City | Living Cost Index (Monthly in Canadian Dollars) |
| Vancouver | 3250 |
| Victoria | 3200 |
| Toronto | 3150 |
| Ottawa | 2900 |
| Oshawa | 2800 |
| Calgary | 2800 |
| Halifax | 2700 |
| Hamilton | 2650 |
| London | 2650 |
| Kitchener | 2600 |
| Montreal | 2500 |
| Edmonton | 2500 |
| Winnipeg | 2450 |
| Quebec City | 2400 |
| Windsor | 2350 |
This Canada cost of living data was last updated in May 2023. As of then, US$1 = 1.36 Canadian Dollars, €1 = 1.46 Canadian Dollars, £1 = 1.69 Canadian Dollars.
Vancouver is the most expensive city to live in Canada, although only marginally so with Toronto and Victoria also notoriously pricey. If you are planning to find a job in Canada or have one lined up, you should of course also consider that you will most likely earn more in those cities.
Students, digital nomads and remote workers may be wise to base themselves in one of the five featured above or another of the cheaper cities. You can find even cheaper places to live of course but in such a vast country, you may have to settle for living in a much smaller or really isolated town if you want to get by on significantly less than 2500 Canadian Dollars per month.
Comparing living costs in Canada to the best cities to live in Europe, it is comparable to only those in the most expensive countries in the continent. For example, most of the best places to live in France (which is expensive by regional standards) are cheaper than Montreal with Paris the only French city with costs comparable to those in typical large Canadian cities.
Canada also ranks near the top when it comes to the cost of living in North America although even the likes of Vancouver and Victoria are marginally cheaper than the most expensive cities south of the border.
---
This post on the cheapest cities to live in Canada was last updated in May 2023. Please note, this article is purely designed to compare the cost of living around Canada. We are not experts on Canadian immigration laws, nor on the current local job markets/study options. If you have questions on this, we'd suggest using other forums or contacting your local Canadian embassy if it is an immigration related question. Thanks!
---
What are the best and cheapest cities to live in Canada?