The Cheapest & Best Cities to Live in Germany
Despite being the largest and wealthiest nation in the EU, Germany is overall quite an affordable place to live with cheaper costs than virtually all of its neighbours to the west and north. It also stands out as a country that is not dominated by one city or region and there are a host of great options for anyone considering moving there. In this post, we'll look at the cheapest and best cities to live in Germany by considering which offer the greatest balance between a high quality of life and affordable living.
---
5 of the Best & Cheapest Cities to Live in Germany
---
Berlin

For a major European capital, Berlin is great value and you should be able to get by on around 1250 Euros per month, which works out significantly less than other major German cities such as Munich and Frankfurt.
The city has completely reinvented itself following the fall of the Berlin Wall in 1989, although the divides between west and east are still evident in parts. These days it is a vibrant city, full of districts with their own special quirks and places of interest. Whether you're looking for a quiet cafe or a loud warehouse club, Berlin has it all. It is comfortably the most popular destination for young people coming to Germany to live.
With around 4.5 million living in its metropolitan area, choosing where in Berlin to live is important as it is a very large city but with an excellent transport network and such a diverse mix of neighbourhoods, you stand a good chance of finding the perfect location to suit your lifestyle.
Search for Accommodation in Berlin:
Estimated Living Costs* – 1250 Euros/month
* The cost of living estimates for the five cities featured in this post clearly will vary from person to person and are only designed as a guide. Essentially they are designed to showcase what a realistic figure might be for a single person living in each city. However, if you intend to live a lavish lifestyle and want your own flat in a good location, then you will struggle to stick to these kinds of budgets. Students and anyone who lives a more frugal lifestyle and is willing to opt for a room in a flatshare, should be able to get by on a bit less.
---
Düsseldorf
Germany's largest metropolitan area is the Rhine-Ruhr region in the west of the country and it's home to a cluster of cities including Dortmund, Cologne, Düsseldorf, Essen and Bonn. You will hear a wide range of opinions as to which is the best city to visit or live in but Cologne and Dusseldorf are perhaps the standout options.
Cologne is the larger city and boasts more in the way of history but we've opted to include Düsseldorf which has emerged as one of the most liveable cities in Germany in recent years. It has a nice blend of old and new and is the location of a number of famous events on the German cultural calendar including the enormous Kirmes fun fair. For many locals this is one of the highlights of summer in Germany and the city also hosts a colourful carnival in the spring.
Its riverside location adds to its charms and with Germany's 3rd busiest airport, Düsseldorf is also a great location for anyone looking for plentiful and affordable connections to other parts of Europe.
Estimated Living Costs – 1200 Euros/month
---
Aachen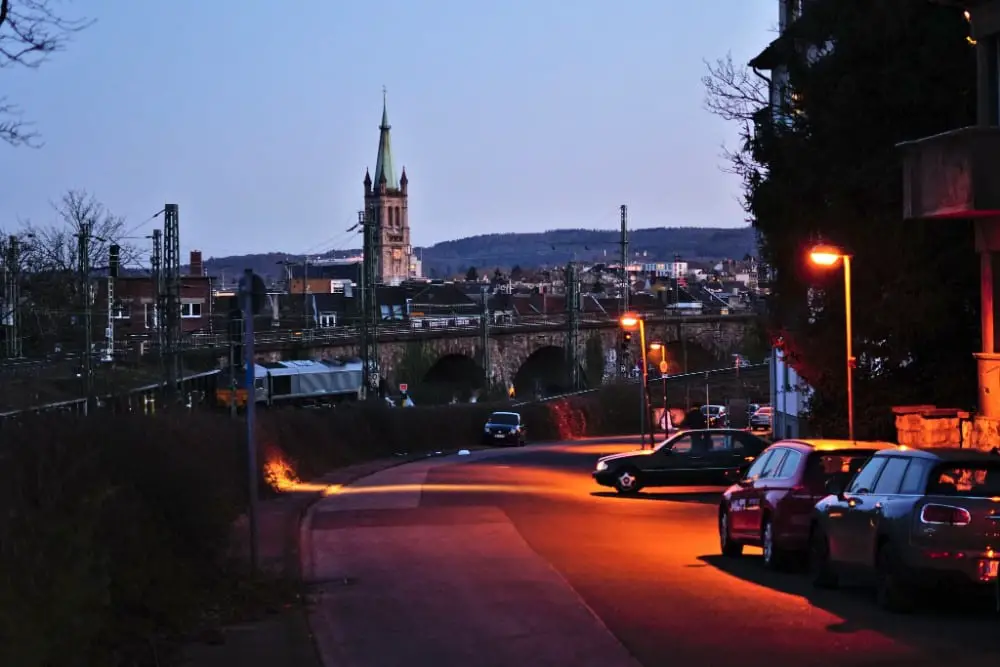 Aachen via Lewin Bormann, CC BY-SA 2.0
If you're somebody who prefers smaller towns, then you'd be wise to consider Aachen, which frequently ranks among the best places to live in Germany. Indeed, InterNations ranked Aachen as the top German city for expats in 2019.
Its popularity in part comes thanks to its cheap living costs with many people able to sustain a decent quality of life on a budget of around 1000 Euros a month, something which is very difficult to do in the largest cities in the country. Many of the foreigners who come here are IT professionals with a large demand for jobs in that sector.
Aachen's large student population helps ensure the city does have its fun side too and it boasts a special character in the winter months when the spires of its old churches and cathedral are covered in snow and its residents flock to the Aachener Christmas Market.
Estimated Living Costs – 1025 Euros/month
---
Find Work Placements in Germany
Join Worldpackers (just $39/year with our discount code) to get access to a host of work exchange programs with everything from work on eco-farms to web design placements. They have 49 opportunities in Germany at the time of writing.
---
Leipzig
In terms of the larger cities (population 500,000 or more), Leipzig is the cheapest option. Its location in what used to be East Germany is a big reason for that and overall the city endured a difficult 20th Century, suffering extensive damage during the 2nd World War before subsequently spending several decades behind the Iron Curtain.
Those factors contribute to its status as one of the poorest major urban areas in Germany but for those looking to save a couple of hundred Euros each month, it's a really good option for anyone moving to the country to live.
Leipzig has undergone widespread regeneration across the first two decades of the 21st Century with the construction of a new transport network and it has evolved into an up and coming economic centre with a bright future according to many recent studies. It has even been described as the most liveable city in Germany, something that would have been absolutely unthinkable 20 or 30 years ago.
Estimated Living Costs – 1050 Euros/month
---
Jena
Jena via Huhnbeauftragter, CC BY-SA 2.0
Finally an option for those who prefer something much quieter and more scenic than the hustle and bustle of a major metropolis. With a population of only around 100,000 and surrounded by a green, hilly landscape, Jena feels much more relaxed than most of the other cities mentioned in this post.
Like Leipzig, it also fell within the old German Democratic Republic (East Germany), but in more recent years, it has developed into a thriving town with a reputation as a major research centre with an enlarged university.
While it may not boast anything like the nightlife and entertainment options of a city like Berlin or Hamburg, Jena is well located for anyone who likes to get out into the countryside with excellent hiking options in the nearby countryside while the Ore and Harz mountain ranges are within easy reach.
Estimated Living Costs – 1125 Euros/month
---
Cost of Living in Germany – Cities Compared
For the table below, we've taken 1250 Euros as a base monthly figure for living in Berlin and have used numbeo's cost calculator as a guide to work out the estimated cost of living in 19 other cities in Germany. Unlike some other European countries, there are not the same extreme differentials between wealthier and poorer regions but the likes of Munich and Frankfurt do still stand out as being significantly more expensive cities to live in. However if you are intending to find a job, you should factor in the higher wages you will most likely receive in one of the larger, richer cities.
Students, remote workers and digital nomads may be wise to consider cities at the lower end of the list although as mentioned above, somewhere like Berlin is still very affordable. You have to ask yourself whether it is really worth saving an extra two hundred Euros or so a month to be in one of the cheapest places to live in Germany such as Aachen or Magdeburg where there is significantly less going on.
The estimated monthly figures themselves are intended to be a comfortable amount for anyone living in a flat-share, aiming to have a lively social life and do things in your spare time (you may be able to get by on less). It should also just about cover costs for anyone looking to rent their own place, although if you are renting alone, you may need to live away from the city centre.
Primarily this table is designed to help you quickly compare the cost of living in cities across Germany. Exact figures will clearly vary considerably from person to person, depending on their respective lifestyles and priorities.
| | |
| --- | --- |
| City | Estimated Cost of Living (Monthly in Euros) |
| Munich | 1500 |
| Frankfurt | 1400 |
| Hamburg | 1300 |
| Stuttgart | 1275 |
| Berlin | 1250 |
| Bonn | 1250 |
| Heidelberg | 1250 |
| Cologne | 1225 |
| Augsburg | 1225 |
| Düsseldorf | 1200 |
| Nuremberg | 1200 |
| Dresden | 1175 |
| Hannover | 1125 |
| Jena | 1125 |
| Dortmund | 1100 |
| Bremen | 1100 |
| Essen | 1075 |
| Leipzig | 1050 |
| Aachen | 1025 |
| Magdeburg | 1000 |
This list consists of the 14 largest cities in Germany (those with a population of 500,000 or more) in addition to six other smaller ones which have been selected because they rank well in quality of life rankings or are generally quite popular with digital nomads or foreigners moving to Germany to live. The smaller cities featured are Aachen, Augsburg, Magdeburg, Bonn, Heidelberg and Jena.
It's worth noting that health insurance costs are not factored into these figures. EU citizens may already have an EHIC card which entitles you to free treatment in Germany. However If you are a remote worker, digital nomad or anyone moving to the country in need of cover, we can recommend SafetyWing – a respected company which offers affordable global health insurance for anyone living or working abroad.
---
This post on the best cities to live in Germany was published in August 2020.
---