Every traveller has their own ideas for bucket list trips of a lifetime consisting of "must see places before I die". The team at Odyssey Tours and Travels have put together one such list of ten once in a lifetime trips. It features a diverse range of experiences and adventures from taking a cruise to Antarctica to diving in the Great Barrier Reef  or trekking the Inca Trail at Machu Picchu.
---
Bucket List Trips of a Lifetime – 10 Epic Ideas!
---
1. Cruise To Antarctica from Ushuaia, Argentina
Ushuaia is the ultimate heaven's gate to the least traversed white continent of Antarctica. Famously dubbed as the end-of-the-world, Ushuaia is the southernmost city on the planet, situated at the southernmost tip of Argentina. It's at a hopping distance from the white continent.
Antarctica is a frozen desert of glistening white as far as the vision can penetrate. What is even more magnanimous here are the ice formations, resembling sculpted monoliths – call it nature's own art. See whales, seals and sea birds worthy of seafaring poems. Rare animal encounters and opportunities found nowhere else, but here. This is ultimate exploration. Nature untouched, untapped.
Your Antarctica cruise tour can last anywhere from eight to fifteen days, circumnavigating through the glacier rises and islands like Cape Horn, Georgia's and The Falklands. You can reach Ushuaia by following our Patagonia backpacking route to its conclusion, which covers the best natural wonders in Argentina and Chile. There are also direct flights from Buenos Aires.
2. Inca Trail Trek at Machu Picchu, Peru
Our next once-in-a-lifetime experience is the world famous Inca Trail trek at Machu Picchu which is an archaeological wonder and a UNESCO World Heritage Site. Because of the curious ruins all along the trek route, there is a sheer sense of mystery and awe for anyone who follows it all the way to the summit.
At the fascinating city of Cuzco, one must halt for acclimatisation as the oxygen levels here repress drastically. The Inca Trail is an uphill trek that leads above 3000 metres, the highest point being at 4200 metres above sea level. The best time to take this trek is from April to October, with peak months being from June to August.
3. Sail the Greek Islands
One of the most pocket-friendly yet beautiful places in Europe, the Greek Islands are perfect whether you want to relax, party or adventure. If sapphire blue waters woo you and beaches entice you, served with drop-dead gorgeous sunset views in the background then head off travelling around the Greek Islands.
The aquatic charm here is more than one can ask for, so much so that you may be baffled by the enormous range of prospects to choose from. A few popular islands are Santorini (a Honeymoon favourite), Crete (a trekker's paradise), Mykonos (most vibrant and lively place for nightlife and beaches), Corfu (medieval architecture, a UNESCO world heritage site) and Rhodes (buzzing with cultural alibi along with scenic beauty).
4. Northern Lights and Norwegian Fjords
Possibly the most fascinating natural wonder Mother Nature has to offer, Aurora Borealis (the Northern Lights) are a magnificent spectacle to behold. When you personally experience this truly once-in-a-lifetime opportunity, you'll know it is a moment of sheer mysticism and will be at awe at the beauty of sheer nature.
The display of the Northern Lights can be spotted all over Norway and in some other Scandinavian countries, but the surest place to catch them is up in the north, near the Arctic Circle. Catching just a glimpse of them is high on many a travel bucket list.
The other factor that makes Norway a part of this countdown is the unrivalled beauty of the Fjords here. You can go skiing, hiking and camping, in the high rises of them.
5. Serengeti National Park, Tanzania and Masai Mara, Kenya
These two places are one big National Wildlife Reserve, except for the fact that in Tanzania, it is called Serengeti while in neighbouring Kenya the reserve is known as Masai Mara. This mammoth reservoir of extraordinary animal and bird species is flocked by thousands of people every year for scientific, ecological and adventurous reasons. The site is a major crowd-puller during the migration hours of the wildebeest and zebras from October to November (period of short rains) and from April to June (period of long, heavy rains).
For its habitats of diverse wildlife, this place is a perfect setting for wild safari adventures and getting up close and personal with some of the deadliest predators in the world like cheetahs and lions. The Mara River in Kenya is a hotbed for ruthless killers like crocodiles. The landscape exhibits varied topographies from lush grasslands and woodlands to sparse bushes and barren sands. You also have the pleasure of viewing the entire landscape from up above in a Hot Air Balloon safari.
For another African adventure, consider backpacking Morocco and heading into the Sahara Desert – another of the world's great natural spectacles.
6. Jeep Safari from Manali to Leh, India
Manali is a popular hill station in Himachal, especially in summers, known for its cool weather and snow-clad peaks. With the Himalayas as the backdrop, Manali is a paradise for adrenaline junkies who enjoy daredevil sports like river-rafting, paragliding and rock-climbing.
Leh, capital of Ladakh, lies in the land dubbed as heaven itself – Jammu and Kashmir. Leh has been featured in many Bollywood movies and though temperatures here are low, the absolute warmth of the locals  will keep you heated up.
The linking factor between these places is the Leh-Manali Highway where you can enjoy the serene natural beauty en-route. The route is roughly 490 km and elevates to 4000 metres. It goes piercing through hilly regions on both sides. You will have ample opportunities to take photographic breaks with the breathtaking rock formations on-route. Glacier peaks with flowing streams get immediately swapped for abandoned and arid lands once you cross the Rohtang Pass. Yet even those barren landscapes seem soothing to the eyes. A brief route outline entails: Manali – Rohtang Pass – Keylong – Jispa – Sarchu – Gata Loops – Tanglang La – Leh.
There is mainly camping accommodation available on route and a typical journey takes 3 days with two overnight stops in Keylong and Sarchu. These breaks are recommended to better prepare yourself for altitude sickness.
7. Golden Eagle Trans-Siberian Railway, from Moscow to Beijing
The Trans-Siberian Express stretches  6,850 miles (11,024 km). From Moscow up until Vladivostok, the route covers the width of the enormous Russian nation and also features dives into Mongolia and China.
In Russia, you can take in sites like the Red Square, St. Basil's Cathedral, the Kremlin and Lenin Square. Irkutsk, hailed as the 'Paris of Siberia' and Lake Baikal, known as 'The Pearl of Siberia' are also on the route. The train takes roughly 15 days to cover the enormous distance but you can of course get off at various points along the route. It's not so much the destination but rather the journey that sees this trip rise high on many a travel bucket list checklist.
8. Swim in the Dead Sea, discover Petra in Jordan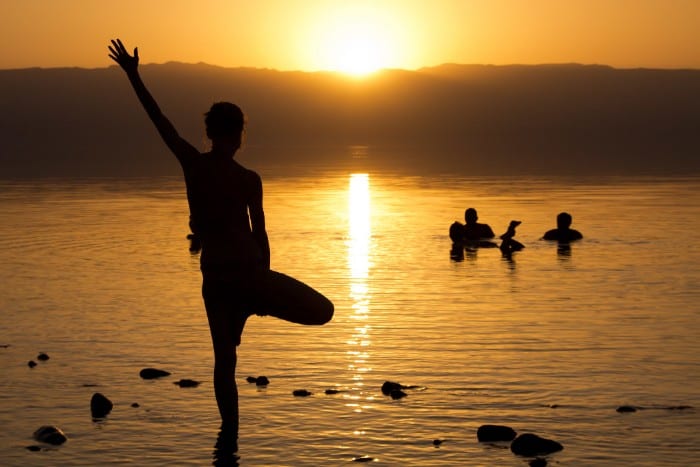 The Dead Sea is the lowest point in the world – 394.6 m below sea-level. It is called the Dead Sea because of the excess salt levels in the sea which make it effortless to float. This salt lake has Jordan bordering its eastern line and Israel and Palestine on the western front.
If you do visit this Sea, you will be thoroughly rewarded therapeutically and cosmetically. The mud along the sea is said to contain many minerals that act as skin-enriching tools. Tourists covered in dark mud are a common sight here. As souvenirs you can take home beautiful salt crystals and formations found lying on the shore, just like sea-shells. It's a personal time of relaxing, of giving some physical and mental respite to your body.
Nearby Petra, one of the best historical sites in the Middle East, is literally carved out of rock and known as the Rose City, because of the rosy-pink colour that the rock exhibits here. The city is full of monasteries and alter-like structures, and is most definitely one of the world's greatest archaeological sites. If you've read the Old Testament from the Bible, you'll be fascinated to encounter the exact same sites mentioned there. Surprisingly, you are allowed to get around the city in only two ways. Either your own feet or those of horses, donkeys and camels.
9. San Diego to San Francisco: Drive Pacific Coast Highway No. 1
The Pacific Coast Highway is the second most famous highway in America. En route from San Diego to San Francisco, there are plenty of attractions and great stops to choose from. Starting from San Diego County you go through beautiful Orange County before hitting the giant metropolis of Los Angeles and then venturing further north towards San Francisco (or vice-versa).
Midway through the route after crossing the Carmel Highlands you are greeted by the famous Big Sur. The coastline is suddenly more elevated and you are welcomed by red grooves kissing the sky and ragged rocks slashed by fierce waters.
10. Scuba Diving in the Great Barrier Reef, Australia
Located past the Pacific Coast of Queensland, a dive in the Great Barrier Reef is pure bliss. This place is home to some of the most exotic marine flora and fauna in the world. Cairns, a cosmopolitan city, is the base to plan your scuba diving trip to the reefs and ranks among the top destinations in Australia – one of the world's most popular backpacking countries.
The Great Barrier Reef is one of the most accessible dive regions and an easy-to-accomplish one. This is pretty much a snorkeler's Shangri-La. You don't need to be an expert at diving to experience it– local dive operators provide overall training and guides help you along every step of the way. Many petit islands are scattered in the nearby bay and you can stay overnight on any of the islands.
It's also very easy to connect from here to a spell backpacking New Zealand, which is home to many more travel bucket list worthy natural wonders.
---
A guest post by Odyssey Tours and Travels
Odyssey Tours and Travels is a leading IATA accredited Travel Company, established in 1992. We specialise in planning customized holidays in India and abroad for our clients which includes air ticketing, worldwide hotel reservations, inclusive tours, sightseeing activities, visa assistance & travel insurance services. For further information or to make a booking contact 020-66442929.
---
This article was last updated in May 2020.
If you have any more ideas for bucket list trips, feel free to comment below.
---
10 Bucket List Ideas for Once-in-a-Lifetime Trips