If you get nervous when flying, you might want to skip the crazy airport landing videos on this page or at least avoid flying to this list of the world's most dangerous airports. From volcanoes obstructing the approach to golf courses sandwiched between runways and worryingly high skyscrapers. There are plenty of obstacles that can get in the way of a smooth approach and here are ten of them:
---
Top 10 Worst Airport Runways
---
10. Gibraltar Airport, Gibraltar
This tiny British enclave in the Med decided to build a runway partially in the sea. Whether this was to overcome the lack of space or just to irritate the Spanish is open for debate. Either way it seems to have worked and to add to the danger there is a main road which intersects the runway. Not a good place to jump the traffic lights!
---
9. Don Mueang Airport, Bangkok
This airport in Thailand's capital makes the list only because squeezed in between the two runways, there is an 18 hole golf course. That's right. Not really dangerous, unless you are the idiots playing golf with Boeing 747's landing on both sides.
Read more – Check out our feature on Bangkok's Khao San Road, possibly the most international street in the world.
---
8. Wellington Airport, New Zealand
In a city nicknamed 'Windy' Wellington you would have thought they could have found a slightly safer place to build the airport. The 6000 foot runway is on the short side and at each end there is sea. Smart idea. If you've ever been travelling in New Zealand and visited what is one of the world's greenest cities, there's a good chance you will have landed here.
---
7. La Aurora International Airport, Guatemala City, Guatemala
One of the most amazing approaches in the world with mountain ranges and many highly active volcanoes surrounding Guatemala City. Volcanic ash can potentially bring down planes. In Europe erupting volcanoes have been known to close large regions of airspace. In Guatemala they don't tend to bother.
---
6. Toncantin Airport, Tegioculpa, Honduras
Another of Latin America's most dangerous airports now and a slightly hairy landing for anyone backpacking Central America and flying into Tegioculpa. Located in a valley between mountain ranges, passengers experience a sharp drop in altitude and a 45 degree twist before landing at Toncantin. Things don't get much better once you've touched down. The airport is fairly dire and the city is one of the most dangerous in the world.
---
5. Bilbao Airport, Spain
On the north coast of Spain, Bilbao from time to time has to deal with very strong winds which planes must contend with only after they've successfully cleared the Basque region's numerous peaks. In 1985 a flight from Madrid crashed into Mount Oiz killing all 148 people on board.
---
4. Yeager Airport, Charleston, USA
Another of the world's most dangerous airports located in a mountainous region now. However here planners decided to build the runway on the top of the cliff rather than in a surrounding valley. The runway is a fraction above 6000 feet and in icy conditions, if you overshoot the runaway, you fall off the cliff. Cool.
---
3. Kai Tak Airport, Hong Kong
This airport has now closed and with good reason after its colourful era as the main gateway into Hong Kong. As well as having an enormous amount of air traffic and some of the busiest air routes in the world, Hong Kong has giant skyscrapers, mountains and harbours all located within a few miles of Kai Tak. Planes had to dodge all if they wanted to land or take-off successfully.
---
2nd Most Dangerous Airport – Paro International, Bhutan
Pilots have to receive special training just to fly into Bhutan's only international airport. Landing at the airport nestled in the heart of the Himalayas is entirely dependent on favourable weather conditions. Certainly one of the world's most challenging landings.
---
The World's Craziest Airport – Matekane Air Strip, Lesotho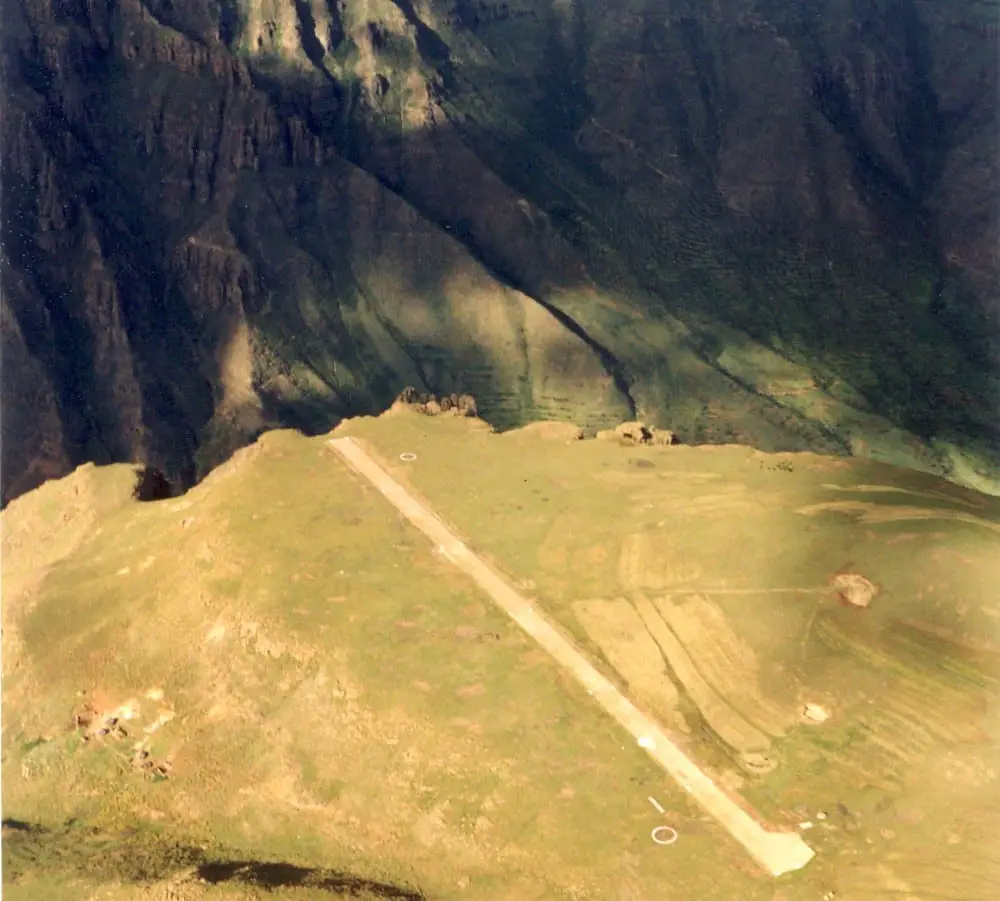 Just from the picture, it's pretty clear why this tops our list as the most dangerous airport landing in the world. At the end of the 1300 foot runway there is 7500 foot drop. By the look of the 'facilities' here, it seems they're not expecting any planes to land successfully. To take-off you literally just drive off the edge of the cliff. Don't know about you but we won't be flying here any time soon.
---
This article was last updated in June 2019.
---
Top 10 Most Dangerous Airports