This post includes an explanation of the service that airbnb offer and an honest review of the pro's and con's of using the site/app to book accommodation.
---
What is Airbnb?
It is a website which allows you to book short to mid-term accommodation in cities and towns around the world. However instead of staying in hotels or hostels, the accommodation on offer is beds or rooms in people's homes or even entire private properties. Likewise if you have a room or a whole flat that is not being used, you can become a host and offer it on Airbnb where travellers can book to stay with you.
---
How does it work?
Searching for Properties
Like a normal accommodation booking site, you can search for properties and have a range of options to filter the results by price, location etc. You simply enter the dates you want to travel and your destination and you get a list of possible results. It's easy to browse the map showing you the location of them.
The most important filter is the 'room type'. This allows you to choose between a private room, shared room or entire home. For the first two options typically you will be staying in a flat/house with the host and whoever else lives there. With the other option you will have the entire property to yourself.
Some properties have a minimum stay but most can be rented for anything from one night to several months. The price you initially see will be a daily rate but if you are booking for longer than a week, you should see a reduction as most hosts offer weekly and monthly discounts. Airbnb is certainly gaining properly amongst backpackers who usually stay in hostels. It offers something of a different experience and is a nice alternative to the hostel scene.
Booking somewhere
The main difference with Airbnb from reserving a hotel or hostel is the actual booking procedure. Once you've found somewhere you like, you send a 'request to book', where you're asked to provide a few details about your stay. The host then will typically reply quite quickly, in most cases within 24 hours either accepting or declining your request. Some hosts prefer people with a previous booking history and reviews while others will accept almost anyone. Of course you can also send the host a message prior to the request if you have any questions.
Once you send a request to book, you have to enter your payment details. Your account will be charged in full for the period of the booking (unless it's more than one month) once it is accepted. However this money is held by Airbnb until 24 hours after your check-in date. Therefore if the property doesn't meet your expectations and is different from the listing you should be eligible for a refund.
They have also recently introduced an 'Instant Book' feature. If a property has 'Instant Book' turned on, you can book without needing to wait for the host to respond and is better for last-minute trips.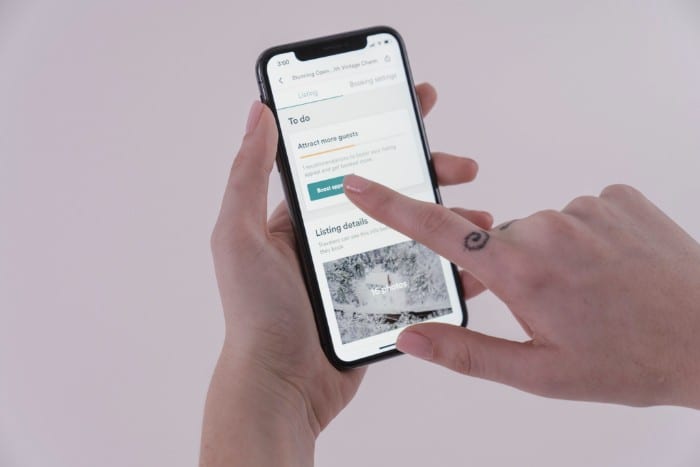 Booking accommodation using the Airbnb mobile app, CC BY 2.0
Checking in to an Airbnb
Once you've made a booking, the contact details of your host will be made available and they are obliged to contact you to sort out the check-in time. You can't just show up at any time like you would to a hotel or hostel, so it's important to communicate with your host. They should at the very least send you the exact address and arrange with you an arrival time. In some cases you won't share a common language with your host. However the Airbnb messaging system automatically translates which should make life a bit easier. The main thing is to agree on a time and be clear about the address.
On arrival, you should be given a key, brief tour of the flat and the opportunity to ask any questions about the property, local area, things to see etc.
After your Stay
Following your stay both parties have some time in which to review the other. You can provide a rating for numerous things such as cleanliness, value, location etc. You can also write a summary of your experience, although none of this is compulsory. Likewise they can give a review of you, which unless you tear the place down, should make life easier booking other properties in the future. With a couple of positive reviews, you will seem a lot more trustworthy.
If you're looking for more travel savings, check out our Worldpackers discount code!
---
Airbnb Reviewed
Advantages of using Airbnb
Airbnb enables you to experience life in a real home in the country of your visit. This can be interesting and often you'll get the chance to get to know your host but it depends on the person. They should at least be able to share their local knowledge on cool places to see and things to do. In some ways an Airbnb stay is somewhere in between the one you get with staying in a hostel/hotel and the more personal one you get with Couchsurfing.
Perhaps the people who will benefit most from Airbnb are those looking for short to medium-term options of anything from say 4 days up to a few months. If you've more than a few days in your destination, you have a bit more time to take it easy and really get to know a place. The 'local experience' that an Airbnb booking provides suddenly becomes an appealing one in that case. The ability to do your own cooking/laundry is another big plus for budget travellers.
Airbnb also works really well for anyone moving to a new city as it enables you to take a room for a few weeks while you look for your own flat. Likewise it can be a more affordable option for those who are spending just a few weeks or months either studying abroad or on a short work placement. It takes the hassle out of looking for accommodation and you don't have to sign up for any form of longer term contract which landlords often require.
The booking system and website is quite simple once you are used to it. Although hosts are free to set their own prices, typically you can get good value using it. Certainly a bed or room booked on Airbnb is likely to offer better value than one booked in a hotel or hostel and most cities have quite a wide range of options.
Airbnb Problems
Airbnb does have its down-sides though and there are plenty of horror-stories out there. As with all accommodation options, sometimes the reality doesn't live up to your expectations.
There are also a few circumstances when there are probably better options. For short-term bookings of just a day or two for example, booking through Airbnb can seem like a real hassle. If time is of the essence, it's probably simpler just to do a quick reservation in a hotel/hostel in a central location. That allows you to get out exploring quickly rather than go through the effort of trying to find your host's apartment at an agreeable time.
One other disadvantage of Airbnb is the chances that your booking could be cancelled, potentially at the last minute. This is relatively rare in truth. However when you are dealing with individuals rather than a big place with lots of staff, one problem or change of plans for the hosts could lead to your booking being cancelled. Hosts are discouraged from doing this and have to pay a cancellation fee. You can see on their profile pages if they are regularly cancelling bookings.
Ordinarily you can simply book into another place if this happens. However at busy periods such as New Year or during local festivals, you can be left with precious few options as the better places typically sell out at such times. The need to pay in full up front is also downside on more traditional methods of finding accommodation.
Overall Verdict
Airbnb will never be the definitive solution to booking accommodation but there and again will anything? The key to finding the best solution for your trip is having a variety options. Airbnb certainly offers an interesting alternative to the hordes of hotel and hostel booking sites out there which essentially all do the same thing. Once you get used to the way the site works, it's quite simple to use. Overall, there are certainly times when booking through Airbnb is the best approach to take.
---
This page was last updated in January 2019.
---