In this post, we're going to look at the worst airports in the world according to passenger ratings. While some cities have been busy building new, state-of-the-art airports fit for the 2020's, other airports have fallen into a state of decline, dogged by the same problems that have irritated passengers for many years.
Google's review/rating system may not be the absolute best way to rank airports, but it's certainly a very useful indicator as to how popular or in this case unpopular airports are with travellers. Ratings are accurate as of 23rd August 2022. For the purposes of this article we are only considering major airports – the 100 busiest in the world by flights per day. All had at least 236 flights per day at the time of research. In case of an identical rating, the airport with more reviews takes the higher position (i.e. is viewed as worse than the other one).
---
The 5 Worst Airports in the World according to Passenger Reviews
---
1. Jeddah King Abdulaziz Airport, Saudi Arabia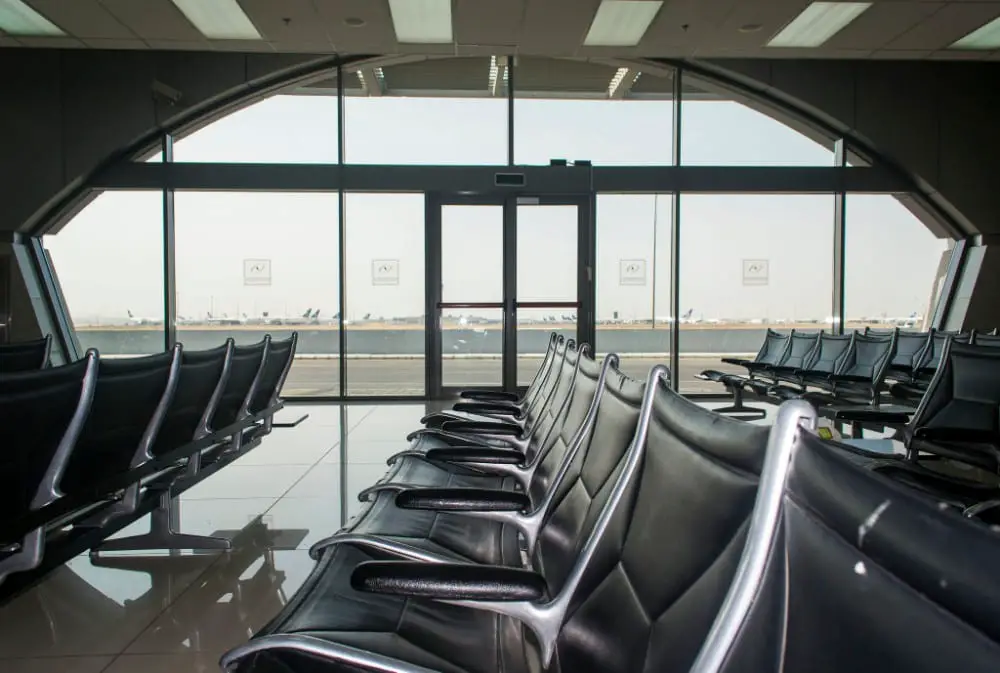 The worst major airport in the world right now according to google reviews is Jeddah King Abdulaziz Airport in Saudi Arabia. While there are only a tiny number of reviews compared to most of the world's 100 most used airports, a number of damning reviews and very negative comments suggests this place has problems.

Many passengers reference the rudeness of staff and complaints about difficulties arranging transfers. Although only the third busiest overall in Saudi Arabia, it is the Saudi airport which serves the greatest number of international travellers. That is partly due to its proximity to Mecca and it features a special Hajj Terminal built specifically for Muslims making the pilgrimage to the nearby holy site.
Google Rating: 2.9
2. Manchester Airport, UK
Another of the worst international airports in the world according to google reviewers is Manchester, the busiest UK airport outside of London. It serves as a major hub for the North of England but continues to disappoint passengers with complaints about just about everything from staff shortages, long security queues and regular delays.

2022 has been an exceptionally bad year at British airports as a whole with travellers returning in great numbers following the pandemic and airports struggling to cope, particularly during busy holiday periods. However Manchester's problems seem to run deeper than that with the "worst airport I've been to in my life" comment a regular feature in the reviews. While Mancunians take pride in their city's status as one of the best places to live in the UK, that sentiment certainly does not extend to its airport.
Google Rating: 3.0
3. London Stansted Airport, UK
We stay in the UK for number three. Either the British just love to complain or have some of the worst airports in the world right now with London Stansted taking the number three spot. Its location, over 30 miles north of Central London, is a factor with the 45 minute Stansted Express trains an expensive introduction to visiting the pricey British capital.

However Stansted's problems in 2022 run deeper than that with many of Manchester's issues also evident when it comes to security checks and delays. Long waits at border control are also a factor in making this one of the worst airports in the world to land at currently with this now an EU border point following Britain's recent exit from the European Union and budget Ryanair flights to and from European destinations making up a huge portion of Stansted's traffic.
Google Rating: 3.3
4. Ürümqi Diwopu Airport, China
Also registering a rating of just 3.3 is China's Ürümqi Diwopu Airport. This is the main airport in the Xinjiang Uygur Autonomous Region in the Northwest of the country with most flights domestic ones to other major Chinese cities. The vast region also borders Mongolia, Russia, Kazakhstan, Kyrgyzstan, Tajikistan, Afghanistan, Pakistan and India so there are also international services too with limited options for overland travel.
While a new Terminal 4 and two additional runways are being constructed, this is not one of China's modern airports so there are structural issues but a lot of the problems here seem to resonate from a heavy security presence and problems at border control. China has been accused of committing crimes against humanity against the local Uyghur population and they are seemingly wary of anyone coming in looking to report on the situation with some passengers reporting checks on camera phones and sd cards.
Google Rating: 3.3
5. Chengdu Tianfu Airport, China
Staying in China to round off the top 5 worst airports in the world, Chengdu Tianfu only fares marginally better although this is another with a relatively small sample size in terms of total reviews with most Google products now blocked in the country. This airport is now the main hub serving the capital of China's Sichuan province taking over from Chengdu Shuangliu International which was China's 4th busiest airport in 2019.
Opened in June 2021, Tianfu features three runways and two huge, modern terminals with a capacity to handle 60 million passengers per year by 2025. Essentially the only major problem here seems to be the location. It's 50 miles and well over an hour by road from Tianfu Square in the heart of Chengdu and the vast majority of that journey is through green landscapes rather than urban areas unsuitable for construction. The question on everyone's lips is why did it have to be so far away?
Google Rating: 3.5
---
Top 10 Worst Airports in the World 2022 (of the 100 busiest)
---
| | | | |
| --- | --- | --- | --- |
| Ranking | Airport | Country | Google Rating |
| 1 | Jeddah King Abdulaziz | Saudi Arabia | 2.9 |
| 2 | Manchester | UK | 3.0 |
| 3 | London Stansted | UK | 3.3 |
| 4 | Ürümqi Diwopu | China | 3.3 |
| 5 | Chengdu Tianfu | China | 3.5 |
| 6 | Paris Orly | France | 3.6 |
| 7 | Manila Ninoy Aquino | Philippines | 3.6 |
| 8 | Beijing Capital | China | 3.6 |
| 9 | Chicago Midway | USA | 3.6 |
| 10 | Nanjing Lukou | China | 3.6 |
The top 10 worst airports in the world of the 100 busiest are completed by Paris Orly, Manila Ninoy Aquino as well as two more Chinese airports while Chicago Midway, the worst airport in the US according to passenger ratings, also features. 
Some of these are now quite old structures and several rank among the worst airports in the world for delays. However what's notable is that even some airports with ultra modern terminals and new facilities do still rank poorly amongst travellers for a variety of different reasons.
---
This post on the worst airports in the world was written in August 2022, based on ratings at that time.
---
The Worst Airports in the World