If you love going on adventures and hiking, then we have the list for you! It features 10 of the best hiking trails in the world. The adventurous hikes
listed
below
are challenging, beautiful and remote, and will definitely fulfil your need for some adventure featuring some of the highest mountains in the world.
A guest post by Rebecca

---
10 of the Best Hiking Trails in the world
---
Kungsleden
Known also as the King's Trail, this Swedish trail is 275 miles long and will take you right into the wilderness. You will also trek through 4 national parks, as well as a nature reserve! Keep an eye out for reindeer in this area. The trail does go off into 4 different sections, which can take up to a week each to hike.
Haute Route
If you want to take this trail, you will encounter some of the most famous peaks in the world! The trail name translates to "high route" and will let you witness the Mont Blanc peak and the Matterhorn. You will need nearly 2 weeks to hike over 100 miles from France to Switzerland, passing small villages and more along the route. You may want to consider getting a walkie talkie set so if you get separated from your hiking partner, you can stay in communication.
Camino de Santiago
Once known as a route for Christian pilgrimages, it is now primarily a famous hiking trail. You will go from the Pyrenees area of France, through Spain, and it is about 500 miles long. You will come across Fuente de Vino, which is a fountain of wine, along the trail. It does get very crowded in the summer time however. There are several hostels and places to eat along the route, so you won't have to camp outside if you don't want to.
Pays Dragon
Located in Africa, this is a hidden area that many people bypass. Going through the African plains, you will pass by the Bandiagara Escarpment. The Escarpment has cliffs as its background as well as granaries, sanctuaries and homes. While continuing on Pays Dragon, you will see more beauty and cliffs as you hike through and you will meet some of the locals who still participate in traditional rituals and ceremonies.
Inca Trail
The Inca Trail leads to the ancient Macchu Picchu and can be done as a short or long hike depending on how much time you have. A beautiful train-ride will take you through the snow-capped Andes Mountains to the tropical jungle and all of its lush landscape and scenery. Once you pass through Sun Gate, an area of 2 stones at the mountain by the Lost City, you will be close to Macchu Picchu and can climb the steps to where the ancient Incans once lived.
Nature lovers in the region might also want to consider backpacking Patagonia for more spectacular scenic hiking trails.
Routeburn Track
If you love the scenery and the beauty that nature has to offer, then the short but sweet Routeburn Track is the place to hike. This is a roughly 20–mile journey that will take you through the Mount Aspiring National Park and the Fiordland National Park. Here, you are going to see not only high mountain peaks, but waterfalls and lakes, plus various breeds of birds! You can also find shelter on the trail by staying at Routeburn Falls or Lake Mackenzie huts.
Annapurna Circuit
Located in the center of Nepal, this trail is known as one of the most beautiful on the planet. You can take the 100 mile route and will be 18,000 feet in the air when you get to the summit called Thorung La, where you will be able to see the peaks of Poon Hill. If you prefer not to rough it the whole time, there are hotels you can stay at for minimal cost.
Read more – Check out all our travel top tens!
West Highland Way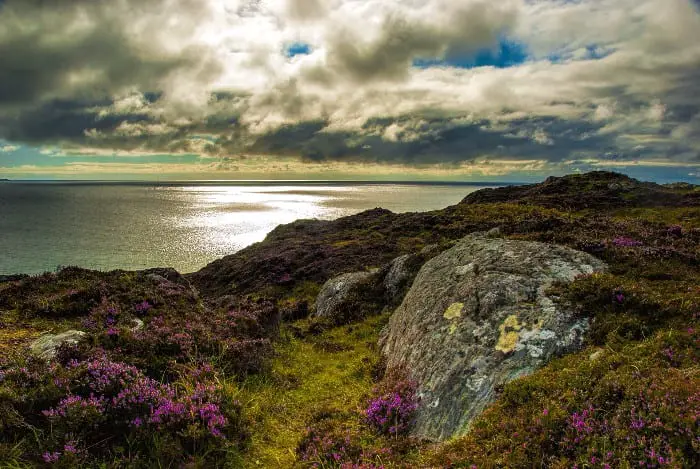 A 96–mile trail of greenery, where you will see the beautiful landscape of Scotland. Here, the weather is a little insane, so you will want to pack for any type of weather, especially rain. You will pass through Glasgow, Rannoch Moore, Glencoe and Loch Leven. Hiking this route will take you through Loch Lomond and The Trossachs National Park as well as the Queen Elizabeth National Park. There is accommodation along the way, where you can eat and rest as you take a break from hiking for the day.
Sentiero
Azzu
r
ro
Also known as the Blue Trail, this route connects the villages of Cinque Terre and you can hike it in one day because it is only 7.5 miles! You will pass by rocky coastlines as well as vineyards and villages. You will start off in the city of Riomaggiore and end up in Monterosso al Mare, and there is some climbing up and down involved on the Sentiero Azzurro. There is accommodation in most of the villages and you can stop to eat at any café, as the Italian food is amazing in this region.
Snowman Trek
You will want to have a lot of experience if you are going to come to take on the Snowman Trek. This is a high altitude area that is located at the Tibetan and Bhutanese borders. You will go over 11 mountain passes at the height of 14,000 feet. While you are hiking, you will see many Buddhist monasteries that are built into the side of the mountains, along cliffs. There are also many small villages with nice people along the trail, as well as beautiful scenery. You will need just over 3 weeks to finish the Snowman Trek, which crosses the Paro Chhu River Valley, with the best time to hike it being in October. This area is pretty remote, so be sure to be safe, yet take the time to look around!
For some more inspiration and great areas for hiking, check out our itinerary for South Caucasus backpacking featuring the best of Georgia, Azerbaijan and Armenia.
---
Author Bio
Rebecca lives in USA, but loves hiking all over the world. Her favourite is Everest Base Camp Trek in Nepal. It usually takes 16 days, but she likes to slow down, enjoy mountains, company of other adventurers and take more pictures, so it took her 28 days last time. Another of her passion is the ocean, so all short and long hikes along the ocean shore bring a lot of joy. She also writes for HikingMastery.com
---
This article was published in August 2017.
---
10 Adventurous Trails around the World