One of the greatest struggles with exploring a new country is getting from point A to point B. Deciding when one should walk, drive, or ride to a place isn't always clear. However, that doesn't mean you need stay fearfully contained in your hostel. Here is a guest post via Michael Geer, a resident in Busan, with some extensive information about getting around South Korea.
---
The Main Options for Getting Around South Korea
---
South Korea by Bus
Korea has an extensive bus system! Not only is it extremely affordable and comfortable, but it can take you nearly anywhere (though not always directly). You can chart a bus trip through South Korea by checking the tourism website. Simply plug in your departure and destination and you'll learn the general times for buses throughout Korea.
There are three basic kinds of bus travel in Korea: intercity, metro, and express buses. Intercity buses are typically larger and more comfortable than metro buses. Long trips (four hours or more) will stop at least once at a rest stop before reaching it's destination. Just be sure to get back to the bus before it leaves!
Navigating metro buses can be difficult, as few metro buses show their destinations in English. However, Google Maps has become better at plotting routes through major Korean cities. It's not perfect, but can help you track down the right bus to where you're going.
Express Buses are what they sound like – express. They stop less and go to fewer locations often linking Seoul to popular weekend destinations. It's important to remember that Express buses have their own terminals separate from intercity/metro buses!
When asking for a bus ticket simply state your destination (e.g. "Incheon") and add the Korean word "Ju-sayeo." So if you want to go to Incheon ask a cashier "Incheon Ju-sayeo." "Ju-sayeo" generally translates to "Please give me". It's a polite way of asking for anything, be it bus tickets, kimbap, or beer.
Seoul Metro & Subway in Korean Cities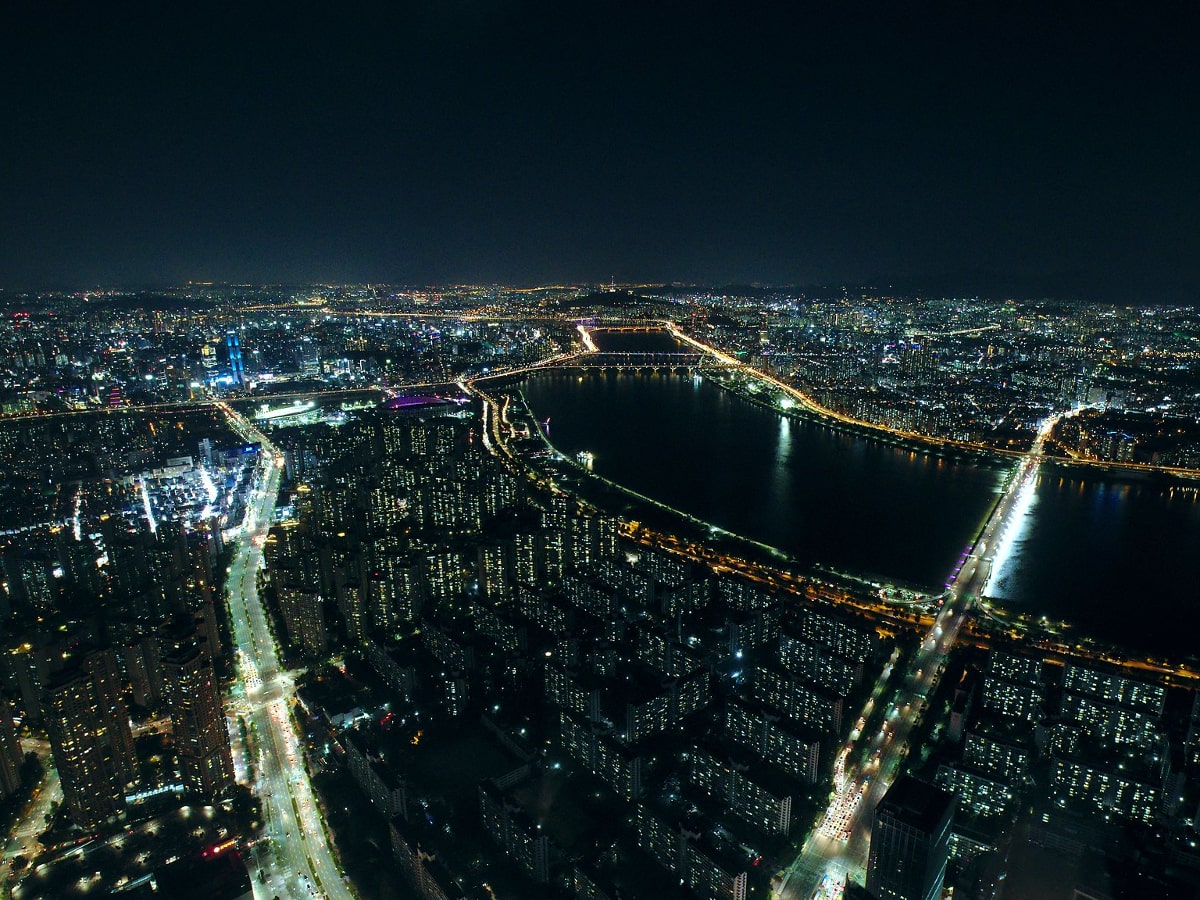 Several major cities have subway systems. Few are as complicated as Seoul (check out Michael's Seoul local tips for an idea of what to do there), however maps and English directions are available everywhere. Subways are clean, efficient, but can be crowded during rush hour.
For smartphone users, download the "Jihachil" subway app for your phone.
This free application will give you all the subway maps in Korea, in several languages. It's also interactive, allowing you to chart your path, telling you train times, transit stations, and how long a particular path will take. It will be a big help for anyone getting around Seoul or any of the other major cities.
South Korea by Train
Train travel in Korea is limited in destinations when compared to bus travel. However, the speed and lack of traffic makes it well worth the extra money when going long distances. Korea has both slow and high-speed (KTX) trains. The KTX trains are more modern and can travel upwards of 290 kilometres per hour! That's not quite as quick as the fastest trains in Japan or China but Korea is not so big and the high speeds can easily shave two hours off travel times when going from Seoul to Busan for example.
As a foreigner in Korea, there are actually more options for train travel than are often apparent. Here are some tips to train travel that can save you money if you travel a lot:
If you visit the English version of the Korail website you'll find several options. One is to purchase rail tickets online. The menus are easy: simply select the date, destination, train, and time. The website will indicate if there are seats available. If you're traveling to a popular destination (like Busan) on a holiday BOOK EARLY! KTX tickets often sell out quickly, especially on major holidays like Chuseok. American credit cards are good for booking KTX tickets online.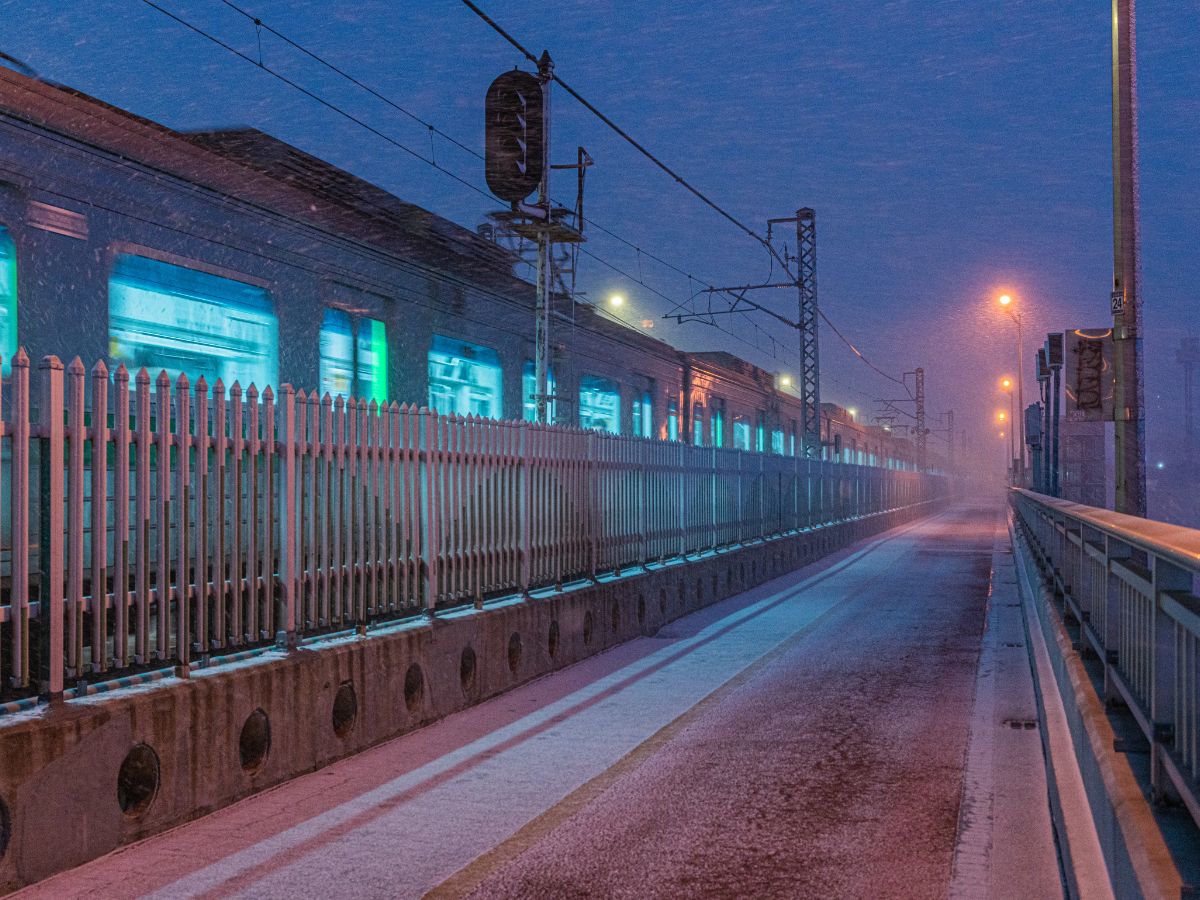 However, there is another option for booking train tickets that is open to foreign nationals exclusively. This is the KR Pass option. The KR Pass allows the holder unlimited access to standard class seats on any train for as long as the pass is valid. They can order the pass online, print their receipt, and present it with their passport at any KTX station. With the pass they can select any available seat on any train they wish.
So, if one were travelling from Seoul to Busan for a weekend, one could either book two train tickets, or buy a 3-day KR Pass. Just remember, the pass is good for claiming available standard class seats! If a train is full, you might get stuck standing, or paying extra for first class seats. It's not a perfect alternative to booking specific tickets, but it can save you a few bucks when you have flexible travel plans!
Lastly, you can book train tickets in person the same as at the bus station. Simply tell the cashier where you are going and they'll inform you which trains are available.
Taxis in Korea
Unlike other developed countries, taxis are an extremely cheap option for getting around Korea. Most start the metre at 3000 KRW or less (about $2.95). When travelling around in a city, taxis are a great way to get around when you can't find a specific spot and don't want to deal with subways or buses. When getting in a taxi, simply tell the driver where you want to go.
Taxis are precarious and intimidating in Korea because few drivers speak English and often have a difficult time understanding foreigners. Speak as clearly as you can, but have your destination written in Korean in case he can't understand you.
If staying in a hostel or hotel always take their business card or information with their location and address in Korean. That way if you get lost (or have a few too many at the bar!) you can always get back to where you are staying.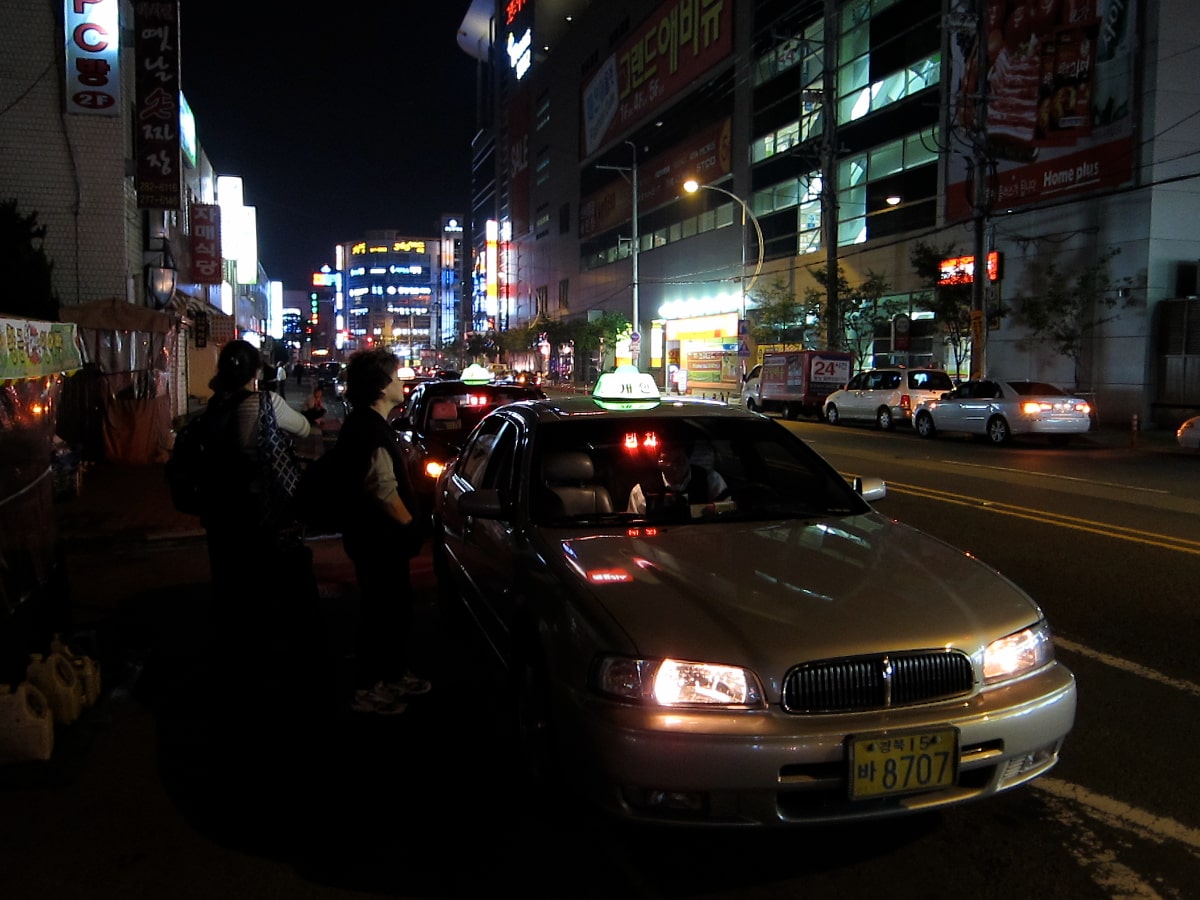 A word of caution, Korea is a remarkably safe place to walk around, even in major urban areas. However, it is not impossible for cab drivers to try and take advantage of foreigners who are lost or drunk. ALWAYS be sure the driver starts the metre when you enter the vehicle and NEVER FALL ASLEEP IN A TAXI!
Cab drivers aren't con artists, but you can't put it past them to take you for a ride to run up your fare. Additionally, some may short change you if they think they can, so mind your money and don't let yourself be taken advantage of in a cab. If you feel you are being mistreated, GET OUT OF THE CAB and photograph the driver's license and information (it's always on display in taxis) if the driver gives you trouble. Remember to always exercise good judgement and never do anything illegal, as the police are not known for their sympathy for English speakers.
When all else fails, call the English Tourism Hotline! Korea has a 24-7 hotline that can be dialled from any phone in Korea. The number is 1330 from a landline, or 02-1330 from a cell phone. Simply dial and access the English menu. Operators speak excellent English and can perform a number of tasks. Want bus times? They can tell you. Need a translator in a pinch? They can help get your message across. Need information on where to go? They'll direct you. It's an especially excellent service if you're using a cell phone in Korea, but if you don't have one, never fear! Korea possesses plenty of payphones in subway stations and on streets!
Now go out there and explore!
---
Author Bio
Michael is a resident English teacher in Busan.  Educating by day and adventuring by night (and weekend), he fills his time with writing, photography, and exploration.
Read more about his experiences in and out of the classroom.
---
These South Korea travel recommendations were published in June 2014. Any prices quoted may have changed since.
---
Getting Around South Korea