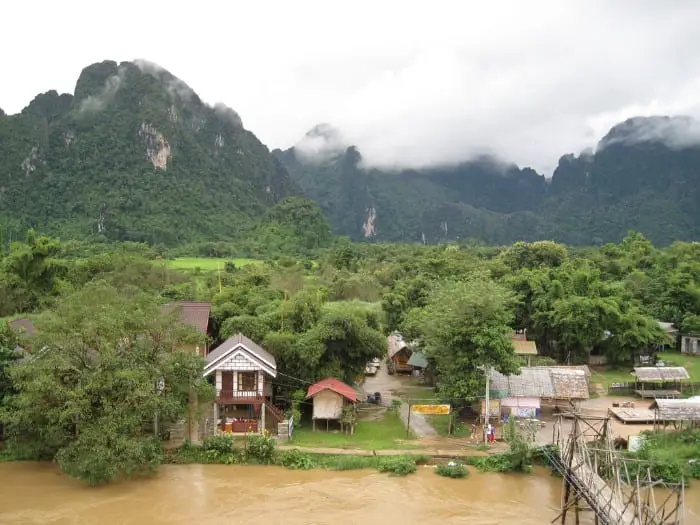 Laos Cost of Travel – Suggested Daily Budget
This post details the estimated cost of travel in Laos. We have outlined two daily travel budgets – one for shoestring travellers and one for those on a slightly more comfortable backpacking budget. Further down there is details on the Lao currency and sample prices for travellers in the country.
---
(Map of Laos from wikitravel, can be re-used under CC BY-SA 3.0)
---
How much money to bring to Laos?
Laos Travel Costs on a Shoestring Budget
US$20/day | 170,000 Laotian Kip
Laos has always been very good value and that is still the case although prices have increased slightly in recent years and it is perhaps a bit more expensive than Cambodia but still generally cheap compared to the cost of travel in Thailand. Travelling around the country is pretty slow and not always entirely comfortable but it is at least cheap. Accommodation and eating out is also great value although a few more expensive places are cropping up so you do have to be a bit selective in that sense now to avoid the places that are clearly not geared towards budget travellers or locals.
Our Laos backpacking budget of $20/day will require a bit of discipline as there are lots of cool trips that you can do in the country not to mention ways to spend your money in the evening with small but often lively backpacker party scenes in several of the main towns.
Backpacking costs in all Southeast Asian countries
More Comfortable Laos Backpacking Budget
US$35/day | 300,000 Laotian Kip
The shoestring budget of $20 is very possible but when you are in a cheap country, the tendency is to not really keep tabs on your spending and daily costs can quickly mount up. In recent years the Lao government appears to be making an effort to attract wealthier tourists particularly from nearby China and that has pushed the price of tours and trips up for everyone else so if you are planning to do a lot of that then $35/day would probably be more realistic.
---
Laos Cost of Travel Insurance
The overall standard of healthcare in Laos is very low and getting ill or injured can turn into a real nightmare and an expensive one so it is essential you have travel insurance. SafetyWing is one company that we recommend which offers affordable and well-reviewed travel medical insurance cover for backpacking trips.
---
Cost of Travel in Laos
Bus from Luang Prabang to Vang Vieng (6 hours) – 100,000 Kip
Meal in a budget restaurant – $2
Large Beer Lao in a bar or restaurant – $1.20
Dorm bed – from $4/night
Budget private Double or Twin room in Vientiane – from $10/night
Tubing in Vang Vieng – 55,000 Kip
This represents pretty good value, even by regional standards. The cost of travel in Myanmar for example will see you generally fork out more for these things.
Note, these prices were last checked in 2016. Everything else on this page was updated in early 2019.
---
What is the best currency to use in Laos?
Currency – Laotian Kip (also known as Lao)
£1 = 10900 Kip
€1 = 9800 Kip
US$1 = 8500 Kip
(All exchange rates are correct as of January 2019)
Unlike neighbouring Cambodia, US Dollars aren't used all that often with local currency preferred in most circumstances. The Kip is the only legal currency in operation although dollars or even Thai Baht are occasionally used for larger purchases. The Baht is often accepted in areas right on the border with Thailand.
---
sketches in Luang Prabang, Laos (via shankar s., CC BY 2.0)
---
This page was last updated in January 2019.
---