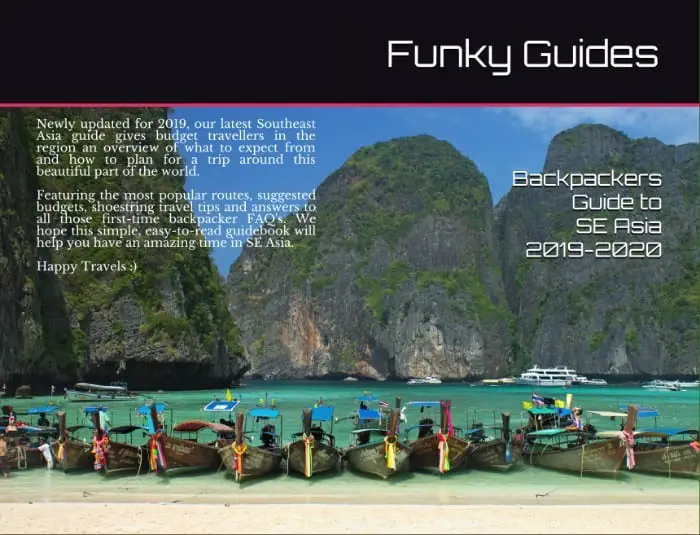 Southeast Asia Funky Guide 2019 – 2020
We have recently released our new Backpackers Guide to Southeast Asia 2019-2020. It is an updated version of our previous guide with revisions including new hostel suggestions for many destinations to account for recent changes across the region. We've also updated all budgets, exchange rates and made some alterations to our packing suggestions and pre-trip advice. There is also a brand new section on tips for sticking to a shoestring budget which offers some advice for anyone on their first backpacking trip that is worried about how much it might cost.
The guide is available on Amazon and costs £2.99 ($3.99) for the kindle version and £5.99 ($7.79) for the paperback. There may be minor pricing changes with time. It's also available on most international Amazon stores for an equivalent price in your local currency. You can read reviews of our previous guides via the Funky Guides author page.
The book can be purchased via the following links –
Sample Pages – Funky Guide to Southeast Asia 2019 – 2020
The screenshots below are from the kindle version. The paperback features the same content but with less pictures.
---
The guide is essentially split into 10 main chapters with several subheadings. Starting off with some background information about backpacking in Southeast Asia and some planning advice, it goes on to outline the most popular routes before providing tips on visas, border crossings and budgeting. The latter chapters are more about providing a bit of inspiration with recommendations for the best festivals and parties as well as the top cultural and adventure destinations in the region. It finishes off by answering a host of frequently asked questions by first-time backpackers in Southeast Asia.
---
---
There are five routes outlined as well as suggestions for linking them together into one main trip. The routes are Southern Thailand (Islands and parties), Mainland Southeast Asia loop (Thailand, Laos, Vietnam, Cambodia), The Philippines, Indonesia and Myanmar. They are slightly different from the ones featured in our backpacking routes page with suggested time-frames for every destination as well as one hostel recommendation for each one.
---
---
The budgeting chapter lists suggested daily travel budgets for every country in Southeast Asia and the entire region. We offer two figures – A shoestring budget and a more comfortable backpacker budget.
---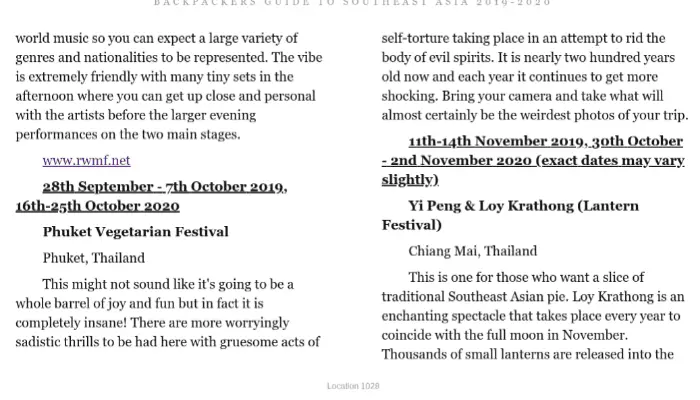 ---
There is also a festivals chapter with information on some of the wildest and most enjoyable festivals around Southeast Asia and the dates in which they will take place in 2019 and 2020.
---
---
Likewise we list all the Full Moon party dates on Koh Phangan and outline what we think are the top ten party destinations on the Southeast Asian backpacker trail.
---
---
The guide finishes off with answering some FAQ's we have received from first-time travellers in Southeast Asia over the past few years including what to expect from hostels, safety advice and suggestions for making travel buddies and getting from A to B.
---