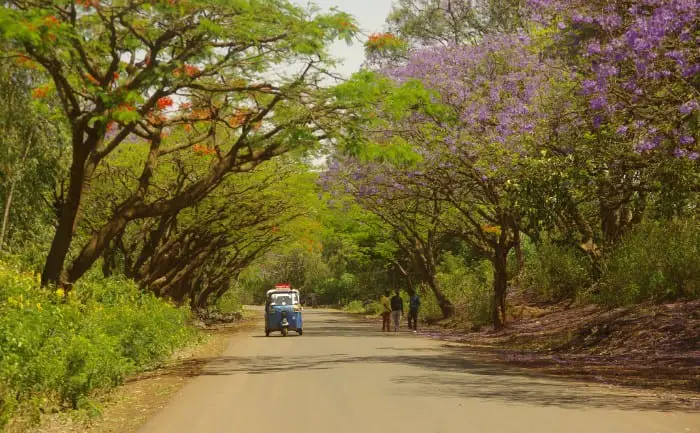 10 New Backpacking Destinations
Every year travel tastes changes and new backpacker hot-spots crop up around the world. If you're tired of the typical stories of backpacking in Thailand or following the Inca Trail in Peru, you might just find some inspiration here.
However please note, this article is now over 8 years old so you may have heard of at least one or two of these places before and some of them are not quite so 'new' in terms of being a backpacking destination!
---
10 New Backpacking Destinations
---
1. Sihanoukville, Cambodia
Cambodia is a crazy place at the best of times and Sihanoukville is where the hedonistic traveller culture in the country reaches its very peak. The town attracts backpackers for its 24 hour bars, clubs and beach raves. The beaches are easily the best in Cambodia, if not quite as nice as those in Thailand but the crackdown on partying and drugs that has transformed Cambodia's more popular neighbour hasn't reached here yet and that's putting it mildly. The place lacks the commercialised developments of other beach resorts in South East Asia and has plenty of deserted offshore islands to explore, all of which adds to its charm. If you like staying in beach huts, soaking up the sun and partying all night then look no further.
2. San Gil, Colombia
Thrill seekers, adventure sports enthusiasts and nature lovers need look no further than San Gil high up in mountainous Colombia. Grade 5 rapids provide for great high speed rafting, while there are plenty of other rivers in the area which offer a tamer introduction to rafting. For a fun but bumpy experience try hydrospeeding which is basically going down the same river as the rafting but on a bodyboard. There's also paragliding and abseiling down a 200m waterfall on offer for the adventurous. Bikes are available for rent and the mountainous surroundings make for tiring but thrilling bike rides. It's only relatively unknown because Colombia has always been a bit dangerous. That's all changed and San Gil is fast becoming a backpacking favourite.
3. Leon, Nicaragua
Nicaragua is a forever popular amongst backpackers in Latin America, but most people who haven't been don't even know where it is let alone its fascinating recent political history. Much of that history revolves around the northern city of Leon and its ongoing struggle with the Conservative city of Granada in the south. While Granada may be more the more beautiful of these two colonial towns, Leon has an edgy and rebellious buzz that is hard to put into words. The birthplace of the 1979 Sandinista revolution is still staunchly liberal and supportive of president Daniel Ortega but retains a great sense of freedom that is lacking in most of the few remaining Communist states. The revolution is everywhere from impressive street art to the bullet holes that still scar the city. To find out more take a guided tour of the revolution museum in the main square, the guide doesn't speak English with exception of the odd insulting remark about certain former US presidents. At night mix with an interesting crowd in the city's bars selling cheap local mojitos and other cocktail delights. There's also plenty of volunteering opportunities to be found here in what remains the poorest country in Latin America.
For more see Sandinista Fever in Nicaragua
4. Potosi, Bolivia
For better or worse there's nowhere else quite like Potosi. As the world's highest city, the altitude can be a great shock even for the fittest, while the sun shines strongly through the day before the temperature drops sharply as the bitterly cold night sets in. You wouldn't know it know but the city and its infamous mines once funded the Spanish empire and what was once dubbed the wealthiest city in the world and still has the odd reminder of its colonial riches. Now however things are very different, the city retains an odd charm but it's the nervewracking mine tours that are attracting a steady and increasing flow of backpackers. Chew coca leaves, set off dynamite, creep around the dangerous mines and meet the miners, the majority of whom will tragically not live past their 40's due to the toxic gases that they inhale every day during long 12 hour shifts underground not to mention the dangers of gas explosions and collapses which kills around 30 people in the Potosi mines each year.
For more see Going down the Potosi Mines.
5. Hoi An, Vietnam
In central Vietnam, which bore the brunt of the American War (as it's known in Vietnam) lies a hidden gem. The Old town of Hoi An is home to some beautiful Vietnamese and colonial architecture while the muddy but oddly charming river makes for a picturesque waterfront setting. The town is most famed for its tailor made clothes markets where you are literally spoilt for choice and this is definitely the place to perfect your haggling skills with many a bargain to be found here, although travellers often seem to end up in rather comical looking suits after a few days in Hoi An. This part of the world is still very cheap, even a 3 star hotel will set you back under $10. What's more only a short $1 moto taxi will get you to one of the most beautiful beaches in South East Asia, while at night there's some lively bars including a local brewery, some surprisingly hip places playing alternative British and American music and also plenty of restaurants.
Read more – 5 Emerging Travel Destinations
6. Tartu, Estonia
Tartu is a charming place, especially in winter when the snow and ice covers the historic city. It's also a thriving student centre with an international crowd as well as a mix of Estonian's and Russians. The nightlife is surprisingly lively and once the underground cellar bars close, even on weekdays you can usually find at least two or three clubs open late including a stylish Soviet Era cinema themed disco (left). Estonians are easily amongst the friendliest in Eastern Europe, the beer and most other things are cheap and there are budget flights to right across Europe from the more well-known capital Tallinn.
Read more – If the Baltic sounds a bit chilly for your liking, check out our itinerary for backpacking Portugal, perfect for a summer adventure.
7. Yangshuo, China
While Yangshuo can be touristy and is probably not unknown to people who have travelled in China, its setting is inspiring and the place feels like it is in a different world to the bigger Chinese cities. This is certainly a good spot to hop on a bike and cycle any out of town through the amazing countryside or to eerie caves. There's also rafting, hot air ballooning and some chilled out cafes and bars. You can also hang out in the parks with the locals or shop the markets but the number of foreigners here means prices are inflated and there are more authentic Chinese towns to visit. Nonetheless its natural beauty is hard to beat. Alternatively you can leave the Chinese mainland altogether and spend some time backpacking Taiwan, an island with plenty to see and do.
8. Bahir Dar, Ethiopia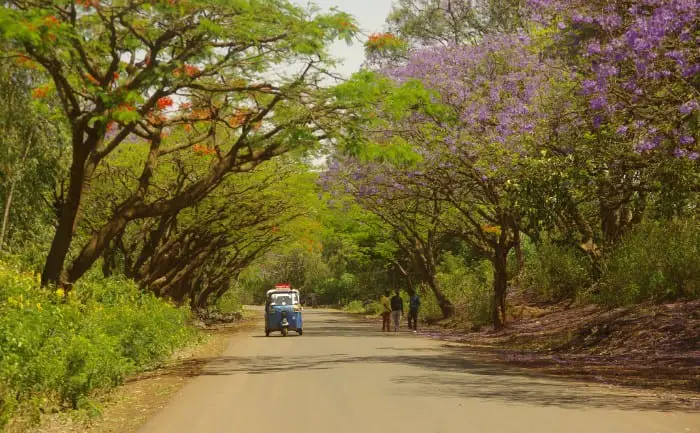 Ethiopia, much like a few other countries in this list stirs up negative images that would be enough to put many people off visiting. Of course poverty still exists and like many African countries it has its troubles but Africa's second most populous country is incredibly diverse and has so much to offer any traveller. Bahir Dar is an interesting place to visit for those looking to experience an Ethiopian city. You can easily see the city and visits its bustling markets by bike as this is how most locals get around. It is the surrounding natural wonders that attract most backpackers however. Lake Tana feeds the Blue Nile River and there are many boat trips out onto the lake where you can visit monasteries and look out for hippos. A bit further out of town you will find the incredible Blue Nile Falls.
9. Huacachina, Peru
Almost certainly the biggest sandunes you'll ever of seen. Stunning views if you make to the top of one of the big ones. The town itself is tiny, home to just 200 or so people and a lot of tourists. There are a few pleasant hostels with nice pools to hang out in during the heat of the day, when the sand is baking hot. By mid afternoon the heat has died down and this is the best time to go sandboarding or one of the bumpy buggy tours which sees you race across the desert of sandunes. A truly breathtaking setting and great fun too, rent a board from one of the guys near the lake for much better value than the sandboarding tours.
10. Kotor, Montenegro
Europe's newest country is beautiful and still experiencing a wave of pride at their newfound status as an independent nation. This makes it a great time to visit with friendly, welcoming people and historic Kotor is undoubtedly one of the highlights. It is a small port town with a beautiful old town full of old churches and cathedrals while you can climb the 4km of ancient fortifications to get a spectacular view of the city. The summer festival is party time and a great time to visit but winter is equally charming. It features on our Backpacking Route for the Balkans.
---
This article was published in May 2011.
---