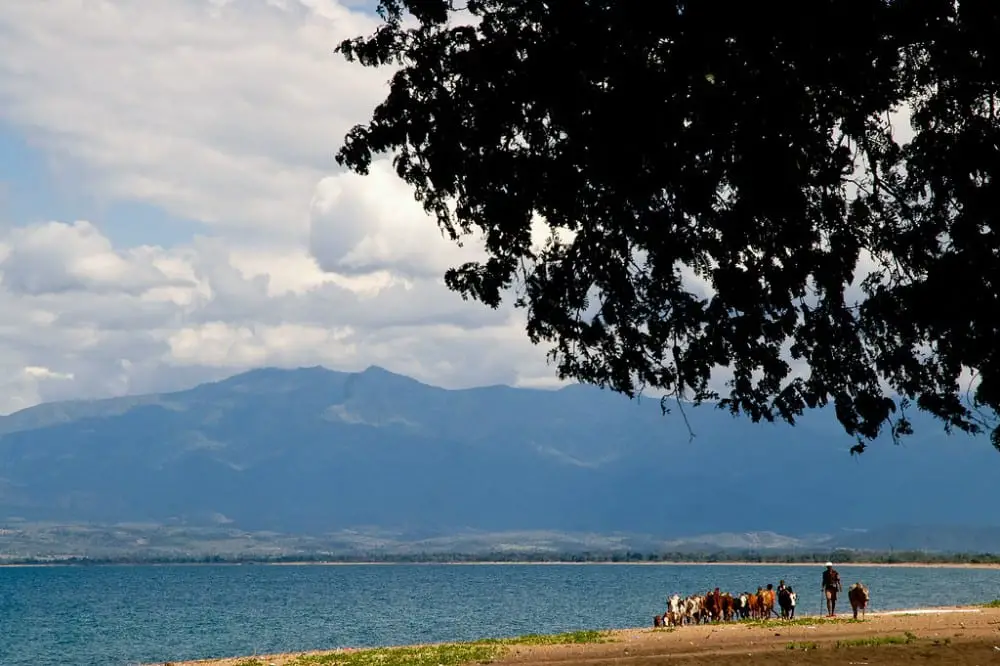 Backpackers Guide to Malawi
NOTE – This backpacker's guide to Malawi was written in September 2010. Some of the info may no longer be accurate.
by Kate Sanger
---
Malawi Backpackers Guide
---
Basic Shizzle
Population: 14 million (ish)
Size: 120,000km2, small by African standards but it is quite long and travelling even short distances can be painfully slow.
Weather: The warm and wet season runs from November to April. The rest of year is very dry with cooler temperatures (around 20°C and much less at night) from May to August. September and October are much hotter (30°C+).
Law: Cannabis and most other drugs are illegal. Homosexual acts are also illegal in Malawi. Discretion is advised if you intend to indulge in either activity.
Exchange Rate: Malawi Kwachas (MWK) trade at around £1=230MWK, €1=190MWK, $1=150MWK
Time: GMT+ 2
Religion: 75% Christian (mostly Protestant) 20% Muslim

Vaccinations/Health
Malaria and rabies are pretty common in Malawi, so you should take Malaria tablets and you might even want to consider the Rabies jab if you're heading off the beaten track seen as healthcare ain't so great. Yellow fever certification may be required if you're coming from an infected country. Hepatitis A, Typhoid, Tetanus and Polio are all reccomended. Even though HIV rates are higher in many other African countries, the risks are still great so extreme care should be taken.

Getting In
Flying in, Lilongwe International Airport is your best bet with flights too and from Nairobi, Harare and Lusaka as well as the main cities in South Africa. Air Malawi has some pretty good regional connections. You can get the steamboat from Mozambique across Lake Malawi into the country. You must get your passport stamped at the immigration post on Likoma Island when coming in this way. Otherwise there's a load of cheap bus/minibus routes you can use for getting in from Mozambique, South Africa, Tanzania, Zambia or Zimbabwe.

Best Places to Visit
The thing that makes Malawi special is the fact it has everything a traveller could ask for in a small space. You can travel from the top to the bottom of the country in a day, yet in that space you can sunbathe on the beautiful lake at Cape Maclear, go tracking elephants on foot at Vwaza Marsh, trek up Mulanje mountain to see beautiful vistas and rummage for clothes in the immense clothes markets at Lilongwe.
The main draw to Malawi is the crystal lake which extends 500km along the border with Mozambique. The endless palm beaches provide the illusion of an inland sea and its sheer beauty makes it a focal point for travellers with a host of activities such as diving, kayaking, boat trips as well as the obligatory sunbathing!
There are many places to visit along the lake however Cape Maclear and Nkhata Bay are definately traveller favourites and have a busy, party atmosphere with lots going on and a whole host activities ranging from diving to attempting to master the art of paddling a traditional dug out canoe. Whereas the tranquil islands of Likomo & Chizimulu are much less developed and provide a peaceful place to get away from it all and relax while taking in the stunning scenery.
The abundance of wildlife in Malawi means a visit cannot be complete without a safari and there are several safari parks catering for a range of budgets and tastes. Liwonde is the biggest and most well known offering copious amounts of elephants, hippo, crocodile, antelope, zebra and more. It caters to a higher budget than the smaller parks but you definitely get what you pay for. However not to be overshadowed is Vwaza Marsh. Vwaza is much smaller and less than developed than Liwonde but offers a more rustic, intimate safari experience including unforgettable walking safaris with elephants only meters away.
For the more adventurous Malawi provides many opportunities for travellers to absorb its varied and beautiful countryside. Zomba plateau with its luscious green forests and dramatic views, and Nyikah plateau with surprising population of zebra roaming over scenery reminiscent of Scotland supply plenty of walking/driving and cycling trails and stunning scenery.
While exhausting and gruelling at times, a trek up Mulanje Mountain has to be a must for all travellers. Your (obligatory) guide will introduce you to amazing views over the country as you scramble up the steep slopes while local villagers run past barefoot carrying an unfathomable weight of logs on their heads. At the end of each day curl up next to an open wood fire in picturesque communal mountain huts nestled into gorgeous spots on the mountain.
Another beautiful place, which is worth the long walk or drive is Livingstone, this historic, isolated settlement high in the North of Malawi provides amazing views over the country out to the lake. Traveller-favourite Mushroom farm or the more secluded, eco-friendly Lukwe both provide beautiful places to camp or rooms to stay in balanced right on the cliff edge and are the perfect places to chill out after some hectic travelling.

Getting Around

The transport in Malawi is an experience in itself ranging from sharing a seat meant for 2 with a whole family and a chicken to clinging onto the top of a pick up truck loaded up to the roof with plantain and maize, and again there will probably be a chicken somewhere.
Transport is relatively easy compared to the bigger countries such as Mozambique, the short distances mean fewer of the 10 hour bus rides and 4am starts you will grow to love in the larger countries! The majority of the roads, especially the main routes through the country, are tarmaced, there are some roads however which will still leave you looking like a bad accident with a bottle of foundation after several hours of bumping along a dusty track in an open pick up!
Large buses run between the big towns such as Blantyre, Lilongwe and Mzuzu at pretty much set times, however minibuses and pick ups, called matolas, run along these main routes and serve all the smaller routes as well. As long as you aren't too picky about the type of transport you get and are willing to spend a while sitting around the bus stations, you will generally be able to get to your destination with little stress. However it is best to leave earlier in the day as more matolas run in the morning especially on the less popular routes. Buses normally depart from the main bus stations in towns and don't leave until they are full.
The Ilala ferry travels once a week in each direction up and down the lake making 13 stops at villages an towns on the way, it takes 3 days to cover the whole distance but many people get on and off along the way. The Ilala is an experience in itself. It is a great way to see the lake and make friends with travellers and Malawians alike, nights are spent on the open deck watching the stars and fishing boats twinkling.
Many people on longer trips pass through the country in 4×4's, which is a great way to see the country and also gives the option to hitch. Malwaians really are the friendliest people and will direct you to the bus station, walk you to the right bus/pick up and very good at letting you know of any changes you need to take. Just remember if someone tells you a journey will take 2 hours it will probably take at least 4!
Nightlife
Nightlife in Malawi varies depending on where you are. In the places popular with backpackers such as Nhkata Bay, Lilongwe and Blantyre there are many bars and clubs frequented by locals, travellers and expats. Hostels such as Maboya lodge in Lilongwe and Mayoka village in Nhkata Bay have happy hours and themed nights and there will always be someone heading into town.
However in the smaller towns such as Zomba, Rumpi and Mzuzu, as well as all the bigger places, nightlife centres around small bars in the markets and dotted all over town. These bars are where the locals gather in the evening to catch up and relax, beer and soft drinks are generally the only drinks on offer in more rural locations, however spirits can be easily found.
A local speciality which many locals clutch, and on first glimpse appears to be milk cartons, is chibuku, a maize based drink which looks and tastes like a soupy alcohol with bits floating in it and tastes just as delighful! It is very cheap and apparently starts to ferment after it is open so gets stronger and stronger, try it if you dare!
Another local speciality are the packets of gin and whiskey that come in shot sized amounts and can be bought in some bars and most supermarkets, while the Malawians seem to drink these neat they are much nicer mixed with bottles of tonic and soft drinks! Malawians are very friendly and sociable so if you do go to local bars you are bound to make some new friends!

Local Lingo

English is the official language and widely spoken. Chichewa is the national language and you can impress your hosts with a few of these random words/phrases:
moni : hello
muli bwanji? : how are you?
zikomo : thank you
kama : bed
kudya : to eat
njoka : snake!
ngona : crocodile!
ndalama zingati? : how much?
Typical Backpacker Budget

Malawi is a country that can be done on any budget, accommodation ranges from luxury safari lodges and hotels cheap local hotels and dormitories in hostels. The cheapest way to see the country is to bring a tent and camp, all of the backpacker hostels, safari parks and places like Zomba and Nyikah have areas for camping at a fraction of the price of rooms.
For example Maboya camp in Lilongwe charges from $4 for camping up to $18 for a 2 person room, although it is worth remembering prices in the big cities are more expensive than in towns like Zomba and Mzuzu. Camping also removes the pressure for booking ahead and planning in advance and means you will rarely turn up after dark in a new place with no bed for the night.
Food again ranges from supermarkets and restaurants in the bigger towns where food catering to a more Western taste can be found, to the cheap, market stalls and local food places where a plate of nsima (a dough like carbohydrate eaten with the hands) or rice with vegetable, meat or fish costs about 70 pence and a beer about 40 pence. The local markets also provide an array of fruits, vegetable, rice, bread and many ingredients enabling you to cook for yourselves on your own gas or where possible on an open fire.
Activities can again be done on a wide range of budgets, a walking safari at Vwaza will cost about £3 whereas at the larger Liwonde a boat safari will be more like £60. However even the more expensive activities such as scuba diving are relatively cheap compared with elsewhere in the world, an open water course can be done for about £230.
As a guide, I spent well under £1000 in 2 months. I camped in a tent in most places and bought food from markets and supermarkets to cook on a gas stove. I saw most of the country including a 3 day trek up Mulanje, scuba diving on Likoma island, several safari drives and walks at Vwaza marsh and Majete, boat trips on the lake and a fair few beers!
Thanks to Kate Sanger who travelled in Malawi last year for the article.
you can also follow Kate on twitter!
---
This article was published in September 2010
---