Backpacking Tours for solo & first time Travellers
On this page, we're going to look at some of the best backpacking tours where solo travellers can join up with a group of other individuals for a pre-planned trip around a designated route. While some independent travellers shudder at the very mention of the word 'tour', there are many people who have a real desire to travel but the anxiety of going it alone is enough to put them off taking on what might just have been the trip of a lifetime.
We hope this post will outline some of the reasons why you should or shouldn't consider joining a backpacker tour. We also have info on a couple of trusted companies at the bottom of this page who run tours in some of the regions most popular for backpacking.
---
Backpacker Tours – Pros & Cons
---
Advantages of joining a Tour Group
You will meet other travellers and make some travel buddies. While there are lots of ways to make friends when backpacking, you will inevitably spend plenty of time alone if you travel independently and that's not for everybody.
You won't need to spend anything like as much time planning with most aspects of your trip from transport to accommodation organised by the tour company.
There is greater support if anything goes wrong. For example, if you are unfortunate enough to be a victim of theft while travelling solo, then it can be quite an overwhelming situation to be in. That's especially the case if you are an inexperienced traveller and find yourself alone with little access to money in a foreign land where you don't speak the language.
Disadvantages of joining a Tour Group
Most are inflexible. You generally can't simply stay longer if you find somewhere you like or meet somebody you want to spend more time with.
You have to follow the itinerary designed by the tour company. While many have a large range of options, it's unlikely you will find the 100% perfect route for you.
It's more expensive. This is probably the biggest disadvantage and it may be enough to put many budget-minded travellers or anyone with limited funds off. Certainly for anyone planning to travel for several months or more, backpacker tours can work out very expensive in comparison to independent travel.
---
Conclusion – Deciding whether a Backpacking Tour is right for you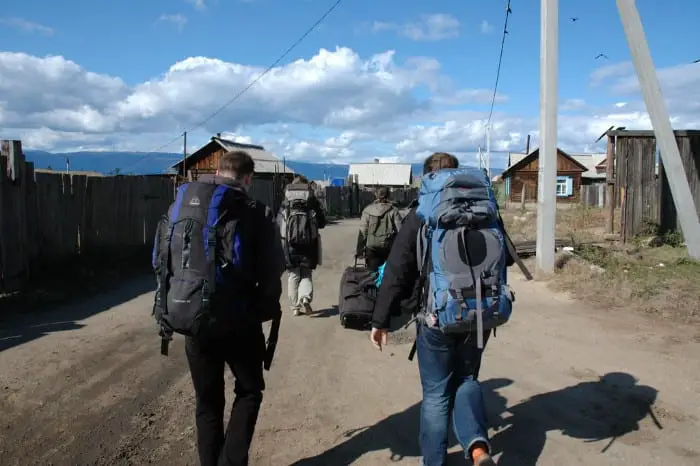 This is a tough decision to make. Perhaps the biggest reason why people join backpacker tour groups is anxiety surrounding solo travel. If you are desperate to travel but are so worried about doing it alone that you will most likely put off the trip altogether, then backpacker tours are certainly a good option.
Some travellers opt to start off with a tour which will give you a ready set group of travel buddies and a bit of guidance in the more daunting early days. Once you've got your confidence up a bit and got used to the concept of backpacking, you will most likely feel much better equipped to go it alone or extend your travels with your new friends at the end of the organised tour.
However, anxiety is not the only factor and all kinds of people opt for this style of travel for very different reasons. On this page, we are more focused on discussing tours for people at the younger end of the age spectrum but there are companies that are much more tailored to older travellers too. If you are at a later stage in your life and have some money in the bank or are simply taking a brief career break and have limited time then this kind of group tour concept may work for you.
The answer to the question may also depend on the amount of time you have at your disposal and the amount of money you have in the bank. If cash is no object but you are limited by time, a backpacker tour may be the smart move as it increases the chances that everything will run smoothly and should enable you to focus on making the most of the time you have.
If you don't feel too anxious about solo travel and have no pressing time restraints but are more limited by funds, then we'd generally suggest just travelling independently. Your money (and therefore trip) will last much longer this way and you should be able to visit more places and experience more things.
---
Backpacking Tours for Solo Travellers
---
Stray Travel are a smaller company based in the backpacker hub of New Zealand. They have branched out to offering tours of nearby Australia and several destinations in Asia, including Bhutan which is quite difficult to visit independently. They've received consistently positive reviews for the majority of their tours.
Where? – New Zealand, Australia, Thailand, Vietnam, Cambodia, Laos, Borneo, Bhutan
How Much? – The price varies depending on the destination and also the kind of tour you opt for. Stray offer a bit more flexibility with their freestyle passes which enable you to travel as a group but book your own accommodation and choose your own activities as you go. That may be a happy medium for anyone looking for a degree of independence and greater flexibility. Here are some sample Stray Travel backpacker tour costs:
Cambodia Freestyle Tour (12 Days) – $795 (£615)
Thailand, Laos, Cambodia, Vietnam Freestyle Tour (38+ days) – $2696 (£2086)
New Zealand Everywhere Freestyle Pass (6 weeks)* – NZ$1245 ($800, £618) 
*This pass doesn't include accommodation or activities and you can use it over more than 6 weeks if you choose.
How Long? – Stray offer some short tours of a few days with their longest ones lasting up to 2 months. However the big difference is that they have the freestyle pass option which allows you to stay longer in destinations you like, so you won't necessarily be travelling with the same group for the whole trip.
Age of Other Travellers – 18-45. 80% are under 30 with again some of the more party-geared tours likely to attract a younger crowd.
What's Included – The freestyle passes cover all transport and the services of a tour guide/leader. Their other options all include pre-paid accommodation and activities as well.
---
September 2020 Update – We used to feature more companies here but unfortunately COVID has led to the likes of Sta Travel folding. If you can recommend any other companies that specialise in backpacking tours, please get in touch.
---
This post was published in November 2019.
---