Backpacking Destination: Lake Atitlan, Guatemala
Lazy Days at Guatemala's Lake Atitlan
Guatemala is a pretty cool place to travel in and it doesn't get much better than spending at least a few days on the banks of Lago Atitlan. The giant lake is not the only attraction as volcanoes, dodgy boats, funky little towns, chicken buses, colourful locals, spanish schools, cheap bars and very basic accomodation help make this a great place to hang around while travelling through Latin America.
PANA ROCKS!
The lake is a vast at 130 km² and is surrounded by stunning mountains as well as three volcanoes. There are many small towns and villages on the banks of the lake, and boats make the bumpy crossing many times a day between the main towns. When heading to Lago Atitlan you'll most likely arrive in Panajachel (Pana for short). It is a good base with basic rooms for under $5 a night and some lively bars and nightly live music at Pana Rock! The main street. Calle Santander (right) has all you would expect from a popular backpacking town including internet cafes, laundry services, cheap restaurants and street food. From Pana you can catch boats to all the main towns including San Pedro, San Marcos, Santa Cruz and Santiago (fares range from Q10 to Q25….$1=8 Quetzals). All the towns have their own unique qualities and are worth a visit if not neccesarily a nights stay. San Pedro is similar to Pana just with less stray dogs and a bit more of a stoner hippy vibe to the place. There's some good nightlife and nightly live music and movies plus some real dirt cheap places to stay so it's worth stopping here a night or two once you've had enough of Pana.

LIFE ON THE LAKE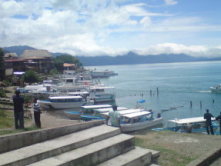 There's plenty stuff to keep you occupied during the day here including hiking up the San Pedro or Atitlan Volcanoes. You can swim in the lake or rent a kayak from many places in San Pedro. Scuba diving is another option, Pana or Santa Cruz are your best bets for this. Guatemala is a popular place to learn Spanish and there's many language schools offering cheap and intensive 1:1 tuition. There's a load of volunteering opportunities here including helping local disabled children and ecological projects but it's best to ask at your hostel or a language school for more info. Or you can simply hop between the different towns on the lake and get to know the Maya people who have lived on these shores for centuries. If there's no public boats running, there's normally many locals who'll take you on their boats to where you want to go (negotiate the price).

WATCH OUT FOR THE WEATHER!
A word on the weather, the lake is 1.5km above sea level and needless to say the volcanoes are even higher. So basically this is at fairly high altitude and is far from the tropical paradise you might expect from this part of the world. It gets cold and wet here so pack as if you're going on holiday in Britain! Otherwise Lago Atitlan is fantastic place to spend a few days or even hang around here for a few weeks while you improve your Spanish.
Useful Lake Atitlan Links

Lagomap: Local Run and easily the best info on Lake Atitlan
Wikitravel
Info on San Pedro
---
This page was last updated in June 2013.
---