Central Europe by Train-
10 Cities in 3 Weeks
Here's the deal. 22 days, 9 countries, 10 cities and one train pass. This is a pretty hectic schedule that will keep you diving in and out of European countries as you take in one thrilling city after another. Almost every other day you pass through new cultures and languages in a small yet hugely diverse continent. Our suggested route takes in some exciting Western European capitals either side of a trip beyond the former iron curtain into some charming and budget friendly Eastern Europe cities.

To do this route Europeans can buy theInterRail passenabling travel on any 10 days over a 22 day period costing €249 for under 26's and €369 for people 26 and over (at time of writing). Note your total trip could take upto 4 weeks if you so choose by spending more time in Amsterdam and Paris, the first and final destinations. This is because your rail pass will only start on the day of your first train journey (from Amsterdam to Berlin) and you will then have 22 days to get to Paris where you may well want to stay for several days at the end of the trip.

Non Europeans would need to buy a Eurail pass enabling 10 days of travel over a 2 month period costing €407 for under 26's or €625 for 26+. This gives you a bit more time to take in the route should you want it but you will need separate tickets for the legs in Poland and Slovakia as they are not covered by the Eurail. global pass.

Prices were correct as of late 2011. Check out ourGuide to Europe Rail Passesfor more info.
1. Amsterdam
This ultra liberal city is the perfect place to start any eurotrip. The large airport is a major hub with flights to and from cities all around the world and the train station offers excellent info and advice in English on Europe rail passes, a luxury that is less common as you head east, so is a good starting point. As for the city well for starters, yes you really can walk into a cafe in Amsterdam and buy weed. This alone is enough to convince many travellers in Europe that the Dutch capital is worth a visit. If you're looking for more then this attractive city is full of lively squares, loads of canals and the fantastic Anne Frank Museum. It's slightly dangerous in parts, especially the red light district which you may find an unpleasant eye-opening experience but it is an important place to visit to fully understand the city.


(Amsterdam to Berlin: 6 hours)
2. Berlin
Germany and its capital especially has very much got its cool back. German's have got a renewed self-confidence and sense of national pride that was lacking for the latter half of the 20th Century. Berlin has been practically rebuilt since the Wall was knocked down in 1989 and has been done so with great style and planning that is rarely seen in big cities across the world. The city also has a rebellious streak and there are some interesting districts to visit while you attempt to understand the immense history of this until recently divided city.

(Berlin to Prague: 4-5 hours)
3. Prague
It is true that Prague has become very touristy over the past decade but there's good reason for it and it's still alot cheaper than its western European counterparts. The city is perhaps the most beautiful in Europe with stunning churches and bridges. There's also excellent ridiculously cheap beer, in the student areas under €0.50 for a pint. The nightlife is lively and best on weekends when the clubs are packed with a mixed crowd of Czechs and mostly European tourists. There is also probably hundreds of youth hostels of varying quality, most of which are very reasonably priced.


(Prague to Krakow Night Train: 8-10 hours)
4. Krakow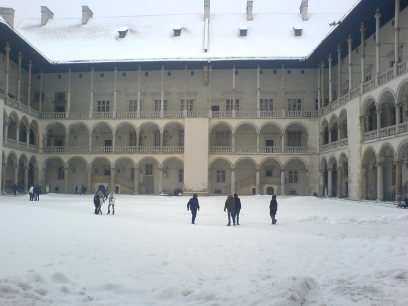 If you liked Prague, you'll most likely enjoy Krakow. It's another city with a fascinating history with a lively old quarter and a once thriving Jewish district which still intrigues and charts the troubled history of Jews in the city. A visit to the Auschwitz Concentration Camp is a harrowing daytrip that can be done by using your rail pass. At night the city has some crazy cellar bars and clubs which are great places to beat the cold Polish winters. For more on Krakow check out ourBackpacker's Guide to Poland.

(Krakow to Budapest Night Train: 9-10 hours)

5. Budapest
The Hungarian capital on the Danube river has a distinctly different feel to it from other European cities. There is a definite Turkish influence and with such a vast history the city has certainly stuck to its traditions. Famous for its baths, stylish architecture and interesting nightlife, there is plenty to entertain visitors here. Cross over the river between Buda and Pest, the two ancient cities which combined to make the modern city which is here today. Climb to the top of the hills near the castle (left) on the Buda side of the river to get some stunning views across this vast city.


(Budapest to Bratislava: 2 hour 30 mins)
6. Bratislava
Bratislava provides a taster into Eastern Europe and what life before the fall of Communism might have been like. Just an hour or so from Vienna but in many ways it still feels like a world away. The capital of Slovakia has a nice old town and castle and is perhaps at its best in December when the Christmas market comes to town. While relatively small the city has a growing reputation for lively bars and clubs.

(Bratislava to Vienna: 1 hour)

7. Vienna
Vienna is a stylish city with fashionable residents. Austrians are easily among the friendliest people in Europe and don't let the German accents fool you, Vienna is in many ways more like Milan than Munich or Berlin. Come on a nice day and you will see scores of Viennese out drinking beer in the sun and the city's colourful streets have a more relaxed feel than most European capitals.

(Vienna to Munich: 4 hours 20 min)

8. Munich
Back in Germany and the southern city of Munich in Bavaria. This is the country's cultural centre with an outrageous number of museums on everything from motors, theatre and art to Bavarian history. This is also home of the 200 year old Oktoberfest which sees millions of litres of beer drunk by the huge numbers of visitors who flock to Munich every autumn. The city is also home to Bayern Munich, one of the most successful football clubs in the world who play at the stunning Allianz Arena (above).


(Munich to Zurich: 4 hours)

9. Zurich

A trip to Zurich is worth it just to see some of the stunning Swiss scenery you pass on the train in. It is the largest city in Switzerland but still has some small town charm to it. It is a city of churches, lakes and gardens but there is also plenty of lively shopping streets and a larger concentration of nightclubs than any other city in Europe. The city is known as a gateway to the Alps and it's a short hop on the train to nearby ski resorts.

(Zurich to Paris: 4 hours 30 mins)

10. Paris


Paris is the most visited city on the planet and although its reputation as a romantic getaway and high prices make it more popular with couples and wealthy foreign tourists than backpackers, there can hardly be a better place to end a trip around Europe. From the Eiffel Tower and the Arc de Triomphe to the Louvre and the Champs Elysées, Paris is a city full of world famous landmarks that keeps tourists snapping away for the duration of their stay in the French capital. Aside from the essential places to visit, there's plenty of interesting and more wallet-friendly districts to eat, sleep and party in this beautiful artistic city.


For more on travelling by train in Europe see our Guide to Europe Rail Passes or visit Rail Europe to get up-to-date prices on rail travel in Europe.




Photos courtesy of flickr photographers jocelyn aubert (amsterdam), Becca Bandit (berlin), roblisa meehan (bratislava), roberat (vienna), carydunn (zurich).