Cambodia: Witness the Horrors of
Pol Pot's Rule
Country Guide|Temples of Angkor Wat|Cambodian Genocide|Phnom Penh's Lakeside

Background: Pol Pot & The Khmer Rouge
The Khmer Rouge were a Communist group which rose to power in the aftermath of the Vietnam War which had a devastating effect on Cambodia, leading to some 2 million refugees and the danger of a huge famine. Led by Pol Pot many hoped the regime would lead to a fairer more peaceful era for the Khmer people. Tragically though around a quarter of the 8 million population died from execution, overwork and starvation. Ethnic minorities and those in the skilled professions such as doctors and teachers were targeted in a horrific genocide. It is impossible to underestimate the brutality and shocking nature of this 4 year episode which the world turned a blind eye to and no-one has ever been brought to justice for. The Vietnamese invaded to put an end to the regime in 1978, but this was by no means the end of the Khmer Rouge influence in the country, often supported in the 1980's by powerful western nations.

Today while the Khmer Rouge is gone and the world is no longer turning a blind eye to what happened, the descendants of those who ruled then are still among the wealthy elite. Their are two main sites in and around the capital open to visitors relating to the genocide that took place and both will give you a detailed account of what took place here.

Tuol Sleng Prison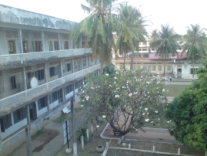 This is the prison in the centre of town where the Khmer Rouge tortured thousands before sending them to be slaughtered at Choeung Ek. Originally a high school, the building was turned into a prison and torture house by the Khmer Rouge after their rise to power. Various gruesome methods of torture were used to extract often fake confessions. Around 20,000 people were held here between 1975 and 1979 including many foreigners. This was also the site of many executions, before the more remote fields at Choeung Ek became the primary location for executions.

Now a genocide museum, It receives many visitors from abroad and from local schoolchildren. It contains photos of the victims, methods of torture and a detailed history of the events that took place here and across the country in the late 1970's.Easy enough to walk to from the centre or get a moto ride for under a $1. Entry is $2, open daily 8am-5pm.

The Killing Fields, Choeung Ek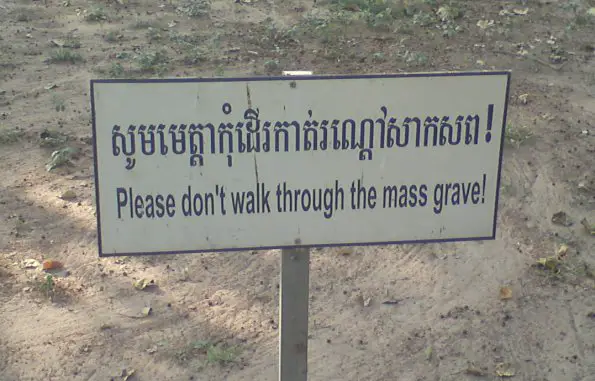 The killing fields of Choeung Ek is the site where 17,000 men, women and children were brutally executed by the Khmer Rouge. There have been in fact over 300 mass graves discovered, so this is just one of the many 'killing fields' across the country. It is now a memorial to the victims with a small museum. A Buddhist stupa contains the skulls of around 5000 victims, while you can walk around the fields where human bones are still very visible.

Cycle or ask any tuk-tuk or moto taxi driver to take you out to the Killing Fields, just outside of Phnom Penh. $5 should be enough for a return trip (they wait at the gates till you've finished). Entry is $2, you are expected to buy a flower to place at the foot of the white monument containing the skulls, before starting your visit. Open 7am-5:30pm, allow 1-2 hours to see it all.

It is pretty grim and some would argue that this kind of tourism is wrong, but it's undoubtedly somewhere you need to visit to understand the horrors that took place in Cambodia. Needless to say you should behave in a respectful and dignified manner at all times while here. Take off your shoes before entering the memorial stupa.




Country Guide|Temples of Angkor Wat|Cambodian Genocide|Phnom Penh's Lakeside